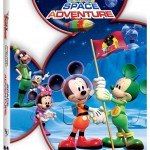 As the parent of a two year old, it should come as no surprise that Mickey Mouse Clubhouse is a morning staple in our household.
Mickey Mouse Clubhouse: Space Adventure has been available on my cable's "OnDemand" feature for a month or two now, but it's finally getting a proper DVD release.
Space Adventure follows the usual cast of characters as they launched into orbit to find a treasure in space.  Since they're off in space, they run into alternate universe versions of characters with Martian Mickey, Pluto from Pluto and Moon Men Chip & Dale — plus Space Pirate Pete (my daughter's favorite) and his helper, Quoodles, a female Toodles.
As with most Mickey Mouse Clubhouse episodes, it kept my daughter enthralled the entire time.
While Mickey Mouse Clubhouse: Space Adventure doesn't break any new ground, it is still a fine edition to any Disney DVD collection. With Christmas right around the corner, this is a no-brainer for a stocking stuffer for children ages 2 to 5.
Added perk: The bonus material on the DVD features a brand new episode called "Goofy's Thinking Cap," which my daughter enjoyed just as much, if not more than Space Adventure.
Details: Space Adventure comes with two discs (DVD + Digital copy for your iPad/pod/phone, etc.) Dolby digital sound and it comes in three languages – English, Spanish and French.  Total run time is 70+ minutes with Space Adventure running 45 minutes in length.
Bonus: You can win a copy of the DVD! How: Simply 'Like' this post on Facebook or RT this post on Twitter and you are entered to win. We'll pick a winner on Friday. Good Luck!