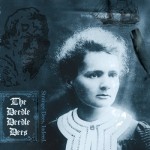 Are the Deedle Deedle Dees the smartest band in the kindie music scene? Possibly.  I once heard Queensryche called "Egghead Bang" for writing rock music that was far smarter than what any of their counterparts were doing. The same applies to the Deedle Deedle Dees. "Egghead Kindie" could easily describe their new their album Strange Dees, Indeed. It's an eclectic mix of smart songs with anything but your traditional topics used in kids music.
It's not every day that a kids record comes to your desk with a song called "River of Blood." Of course, the song is about your circulatory system, and the chorus is catchy all get out. "The River of Blood keeps on flowin' / The River of Blood keeps on going."
Musically, the band displays a mix of old school traditional music of ragtime, blues, jazz, swing and numerous others. "The Golem" is a klezmer-style song that will have you singing "Listen to the big feet go bum! bum! That's the sound of the Golem when he comes" at random parts of the day. The chorus is so good, it gets stuck in your head after the first listen.
Songs about Abigail Adams, Marie Curie and Sacagawea are other topics included on Strange Dees, Indeed. Ever heard of Phineas Gage before? Neither had I, but that didn't stop the Dees from writing a song about him. Cliff Notes version: He survived an accident in which a large iron rod was driven completely through his head, destroying much of his brain's left frontal lobe.  Like I said, not your typical kids' music fare.
Strange Dees, Indeed is different, unique and impossible not to fall in love with.
This album is geared towards older kids; most of the lyrical content will fly over the head of kids under four years old. Curious about how these songs came about and interested in helping educate your kids on the topics covered in the songs? Read with your kids, straight from the band, plus lyrics right here.
Buy the new CD, straight from their site. Listen to the tracks below.