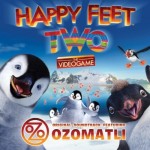 Anytime I have ever told a friend about Ozomatli I always add that "They're the best live band I have ever seen. " I have yet to see a band capture the raw, live energy that Ozomatli produces on stage from start to finish. Hailing from Los Angeles, Ozomatli is a melting pot of music genres: salsa, funk, hip-hop, dancehall, reggae and so much more. So it was with great excitement when I saw earlier this year that they were going to be making childrens music under the moniker Ozokids. However, the soundtrack for Happy Feet Two: The Videogame is not Ozokids, rather Ozomatli.
Since the goal of the video game is "use the player's rhythm to bring the Antarctic landscape to life. Use dance moves to stun enemies and help recruit other penguins to join the cause." The pairing of Ozomatli is almost too perfect, they've been making music that has made people move for 15+ years.  This soundtrack is no different. "Get On The Dance Floor" was put on repeat after my daughter's first listen. It took us at least 4 more listens until we could move on to the equally infectious "Flip Flap". Not to judge, but if you can't dance around the house to this album with your kids, you've got issues.
As they do with most of their albums, this one is bilingual with a mix of English and Spanish songs. "Bailar Pinguino" (Dancing Penguin) and "Mas Campana" (More Bell) are two and you better believe "Mas Campana" features some cowbell.  Even the opening track "Dynamite" goes back and forth between English & Spanish. The album is full of all original tracks, except a cover of Basement Jaxxs' "Do Your Thing."
If Ozokids is anything like what they feed our ears on Happy Feet Two: The Videogame, parents and kids are in for a real treat in 2012.
If you are on spotify, you can listen to the album here.
Track list:
1. Dynamite
2. Get On The Dance Floor
3. Flip Flap
4. Bailar Pinguino
5. Go Crazy
6. Are You Ready?
7. Scatman
8. Your Hand In Mine
9. Penguin's Life (feat. Lil P'nut)
10. Do Your Thing
11. Happy Bird
12. Mas Campana