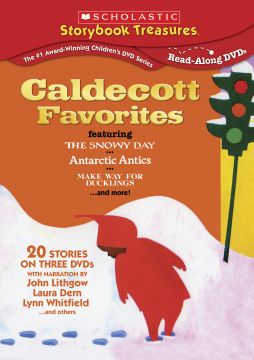 Because you can only interestedly read Robert McCloskey's "Make Way for Ducklings" to your toddler or silently prop up Ezra Jack Keats' "The Snowy Day" only so many times, Scholastic Storybook Treasures has released a massive DVD set of filmed adaptations of a bunch of classic, Caldecott Medal-winning or nominated children's book classics. Well, adaptation isn't exactly the right word. They're pretty much stills of the books with gentle transitions from one page to another with warm narration by celebrities. In other words, these are books-on-DVD.
And they're wonderful. The three-disc set of video storybooks (available Nov.
22) is a great wind-down tool for a holiday-crazed little one. It includes 20 stories, most based on Caldecott-honored children's books. Named for 19th century illustrator and children's publishing innovator Randolph Caldecott, they wouldn't be here if the images weren't child-beloved and visually stimulating. None live up to the honor more so than "The Snowy Day," probably the most famous and treasured picture book ever. Scholastic captured Keats' book in that it's just as gentle, beautiful, and quiet as the book, or a real snowy day.
"Snowy Day" leads off a whole disc of Keats stories, which also includes "Whistle for Willie" and "Pet Show." The second disc is all animal stories, including "In the Small, Small Pond," and the wonderful cap-thieving monkeys of Esphyr Slobodkina's "Caps for Sale.
" The third disc: all duck stories. Special features: Spanish versions of a lot of the stories, and open-captioning, or as its encouragingly called, a "read-along" option. It's three and a half hours of classic, innocent, warm toddler books, video versions of a great early library.
Either your kids will recognize and enjoy these video versions because they know the books, or the videos will make them want to read the books, which you probably have already. Or you should have already. Why don't you own "Snowy Day" or "Caps for Sale"?