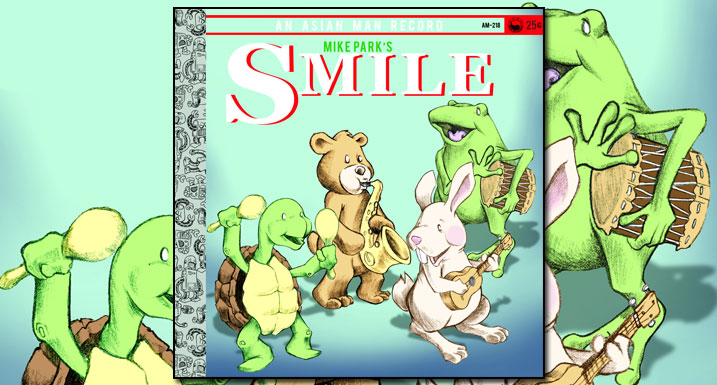 My taste in music developed during the mid '90s, and the resurgence of ska/punk – with artists like Mustard Plug, Toasters, Skofflaws, MU330, and, of course, Skankin' Pickle – was a big part of that development. To me, it always seemed that ska and kids' music were a natural fit for each other. Luckily for fans of the genre, Skankin' Pickle front man Mike Park just released Smile, his first foray into the kindie music scene. My inner punk/ska nerd's head exploded.
Mike doesn't break the mold too much on the tried-and-true ska/punk formula.
The opening track, "Wiggly Wiggly Worm," kicks off like a typical ska tune: chicken-scratching guitar and saxophone. "We All Live At Animal Park" is an acoustic gem that closes the album; your kids will be singing along with it after one listen. "Everybody Loves to Jump" will have your kids following along with the instructions — "Move your arms, shake your head, swing your hips from side to side, exercise is fun!" (Keeping to Park's roots, this track includes a subtle Operation Ivy reference.)
Other topics include eating apples, bus driver Gus, frogs and playing the saxophone. It's stuff that's been covered many times before, but Park breathes some fresh life into the genre.
At 23 minutes long, the twelve tracks fly by at a blistering pace with most tracks being well short of two minutes. After one listen to some songs, my daughter was already saying: "Again." The songs are bouncy, catchy, simple, fun, sweet and just goofy enough to keep your kids listening. Even if you weren't into the punk/ska scene from the mid '90s, Mike Park's debut kindie record is definitely worth the .
Check out the video for "We All Live At Animal Park"
Tracklist:
1. Wiggly Wiggly Worm
2. Apple's Are My Favorite
3. Little Green Frog
4. Everybody Loves To Jump
5. I Can See The Ocean
6. 1..2..3..4..5..6..7..8..Drums
7. When The Light Turns Red You Stop
8. Paint With Me
9. Turn Off The Lights
10. Bus Driver Gus
11. I Love To Play My Saxaphone
12. We All Live At Animal Park
Order 'Smile' right here for $8.  Bonus: A custom made four-pack of crayons with a cartoon of MIKE PARK'S face come with each record!
Double Bonus: According to this interview,  Mike plans on releasing more kindie albums from members of Bouncing Souls, Groovie Ghoulies, and MU330.