Greenfield, MA isn't necessarily known as an entertainment mecca, unless you count the fact that it's the birthplace of Penn Jillette. But last weekend, while folks in Philly were sweating it out during the XPoNential Festival held by our pals at WXPN — and hipper listeners were at the Pitchfork Music Festival — New England was busy being blessed with its own live music extravaganza: the 24th Green River Festival.
It's held on the grounds of a community college in rural northern Massachusetts, but the Green River Festival isn't the collection of acoustic guitar-toting folk singers you might expect.
This year's lineup, which sprawled out over two hot summer days and nights, included a touch of the traditional (Brooks Williams opened the main stage on Saturday), but made plenty of room for the unexpected (Allen Toussaint, Cake, and Sierra Leone's Refugee All Stars are just a few eclectic examples).
One of the great things about the festival's location is room — and plenty of it: Aside from the spacious main stage area, which housed thousands of chair-and-umbrella-toting concertgoers and dozens of craft and food booths, the festivities spilled over into a huge lawn area where lesser-known acts played at the Dance Tent, hot air balloon rides were available for folks who had $250 to burn, and our pal Bill Childs delivered two days of marvelous family entertainment at the Meltdown Stage.
I'll be writing about the grown-up artists at Popdose later, but here's a brief rundown of my Meltdown experience: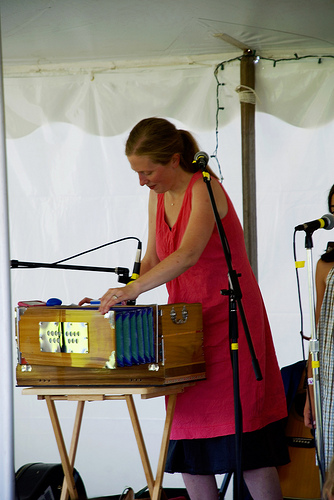 Elizabeth Mitchell took full advantage of the sign language interpreters on offer under the Meltdown tent, using two — one using what I assume was ASL, and another communicating with what I'm guessing was Korean Sign Language. It's all part of the multicultural, all-inclusive aesthetic her music has always had; when I arrived at the tent, Mitchell was telling the folks in the audience that on record, the song she was about to perform featured a magic xylophone, but she was sure it'd be fine without it because "everyone has a magic xylophone within them." It reads pretty airy-fairy, but if you've ever heard an Elizabeth Mitchell album, you know it makes perfect sense in the context of her music. Her gently buoyant set was perfect for a hot afternoon; I was pleasantly hypnotized long before her adorable daughter broke out with a harmonica solo. Even with a wall of overdriven amplifiers, she'd be soothing; crooning "peace like a river," she's positively heartwarming. I've long loved her earlier work — if you aren't a fan yet, visit her site now and familiarize yourself before her new album, Sunny Day, arrives this fall.
Earlier this year, I missed the New York duo Ratboy Jr. at the Meltdown Festival, and I was determined not to make the same mistake twice. Hailing from New Paltz, NY, the duo of Timmy Sutton (guitars, vocals) and Matty Senzatimore (drums, backing vocals, and amazing simultaneous keyboards) offers a wonderfully down-to-earth alternative to a lot of the sugary, stupidly silly kids' music on offer by concentrating on stuff kids really love — like dirt, worms, and robots. Timmy told the crowd he was excited to see Cake later in the day, and you can hear a pretty clear line between the two acts, but where I've always found Cake painfully corny, there's something undeniably endearing about Sutton and Senzatimore's eagerness to get down in the muck and remind us how much fun it really is to connect with the world around us. Like their song "Dirt" says: "Everything is wonderful, including the dirt.
" As parents, a lot of our choices are corporate-fed, and they ultimately ring hollow on one level or another; as clever as the Backyardigans' or the Wonder Pets' songs might be, they're still part of a computer-generated product line. Ratboy Jr. is as far away from that as you can get. Read my review of their CD here, or visit them at their Facebook page to sample their wares.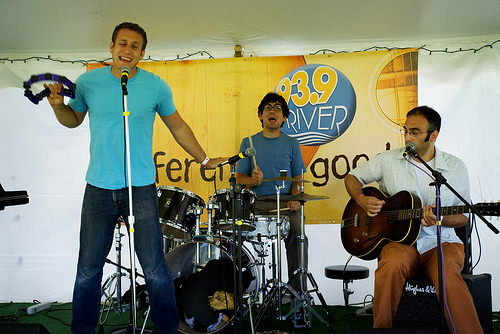 I've gone on record with my love for the Flannery Brothers' music on more than one occasion, and I'm about to do it again: Their Sunday set, which kicked off the afternoon program at noon, was the second time I've seen them give it their all for a crowd that should have been ten times the size. If they aren't my favorite kids' band, they come awfully close, and there simply aren't enough of you listening to their wonderful songs. During the band's Green River show, vocalist/keyboardist/tambourine player Dan Flannery swiped the title of "hardest working man in children's show business" from Justin Roberts; even if it hadn't been 90 degrees outside, he would have quickly worked up a sweat with his energetic antics (at one point, he grabbed his tambourine and sprinted across the field between verses of a song). They're just a great band, melding funky grooves, tight guitar, and electric keys to funny, charmingly wide-eyed songs about vegetables, riding bikes, and favorite pillows. I've heard their upcoming album, The New Explorers Club, and it's absolutely their best yet. Visit their site, buy some music, and spread the word — the Flannery Brothers have the childlike spirit, the performing talent, and the songwriting skill that listeners of all ages need to hear more of.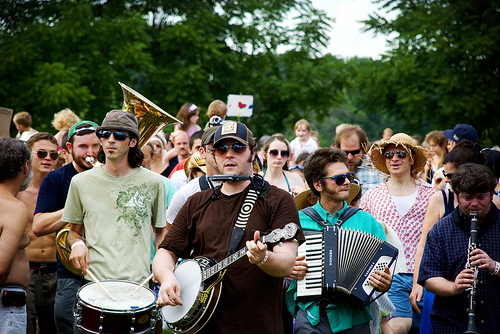 Having said all that, the nicest Meltdown Stage surprise of the weekend came in the form of The Primate Fiasco, a local band that describes its sound as "psychedelic Dixieland," but really offers a much more traditional listening experience than you might expect. Close your eyes, and you'll imagine guys wearing natty straw hats and suspenders on their arms, but this five-piece crew was full of sweaty, youthful vigor when I saw them; they played a "grown up" set at the Dance Stage before slaying the pint-sized Meltdown crowd with selections from their addictive new family disc, Wheels on the Bus — and then they led a Mardi Gras parade through the festival grounds just before Allen Toussaint took the main stage. I bought both of their albums before I walked out of the tent — give me a banjo, a clarinet, and a tuba, and I'll be your friend for life — and played Wheels for my kids first thing Sunday morning, at which point they became immediate fans. If you're not in the Northampton area, your chances of catching a Primate Fiasco show are on the slim side, but nothing's stopping you from buying either (or both) of their CDs. Vocalist/banjo player/harmonica player Dave DelloRusso told a concertgoer that Wheels on the Bus is his favorite of the two, and I agree with him — but miss their first album, Geek Dreams, and you'll miss one of the more sublime versions of "Sweet Georgia Brown" that I've ever heard. Trust me: You're a Primate Fiasco fan. You just don't know it yet.