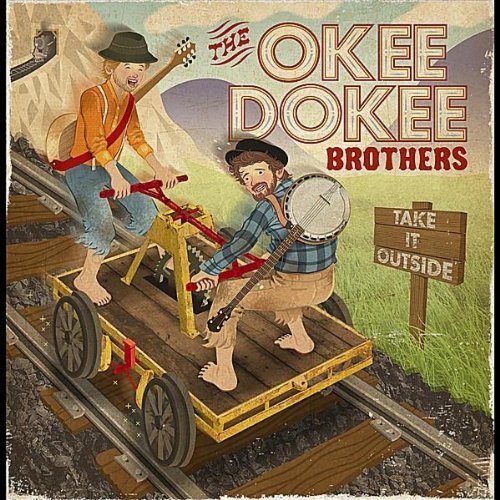 Following the tradition established by albums like Jerry Garcia and David Grisman's Not for Kids Only, the Okee Dokee Brothers blow the dust off traditional bluegrass and highlight its playful spirit, offering kids a knee-high gateway into the world of American roots music.
Of course, it isn't like trad bluegrass is particularly hard for all-ages audiences to enjoy, but that's no reason to complain about Take It Outside, the Okee Dokees' follow-up to their 2008 debut, Kids with Beards. Anything that connects kids with the primordial joy of song is all right in my book, and Outside represents an assured next step in the duo's self-proclaimed "mission to remind children (and adults) of their intrinsic ability to discover, imagine, and create through music."
For proof that the Okee Dokee Brothers know what they're doing, you don't have to look much further than the company they keep — Take It Outside was produced by Tor Hyams and features liner note endorsements by preeminent kindie critics Bill Childs, Christina Refford, and Stefan Shepherd, all of whom know a thing or two about great family entertainment. And it isn't hard to hear why they're Okee Dokees fans: This a 13-track bundle of fun, cleverly written bluegrass, recorded with a minimum of fuss and bother, and soaked in kid-friendly charm.
There are moments that your kids will probably enjoy a lot more than you do (I'm thinking specifically of the colossally annoying "Tippy Toes" and "Water Balloon"), but on the whole, Take It Outside is loaded with replay value: Highlights include the lovely, cascading melody and beautiful message of "Neighbors," the hip tongue-twister "Antidisestablishmentarianism," the rubbery, gale-force storm of syllables that is "Auctioneer," the warm-hearted "What We Got," and the funny ode to nudity "The Naked Truth."
According to their website, the Okee Dokee Brothers — a.k.a. Joe Mailander and Justin Lansing — were "childhood best friends," and they sound like it here, wrapping their voices in brotherly harmony and anchoring their songs in the kind of hummable, durable arrangements that beg for back-porch playing. At a time when artifice in music is so commonplace as to be invisible, isn't that kind of simplicity its own reward?