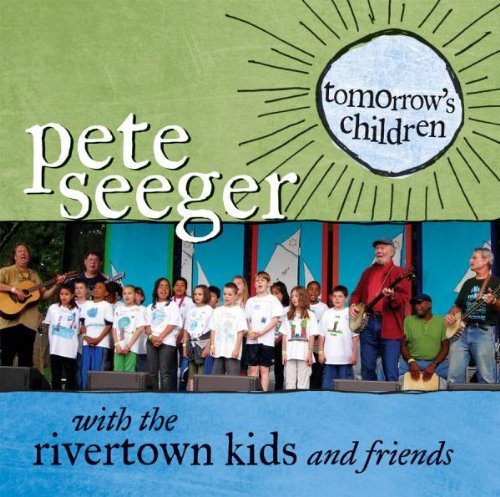 Even during his younger days, Pete Seeger was something of an ambivalent recording artist.
He feared that the more he sang on record, the less likely people would be to join in and sing along; foreign as it might seem in this age of tabloid-reported indiscretions and phony social media friendships, Seeger never desired celebrity. He's really always worked to build a creative relationship with his audience, and he's always stressed the power of participation — in family, in community, and in the arts.
Now 91, Seeger isn't the vocalist he used to be, but he's only used this as an excuse to further embrace the group performances he's always encouraged; his Appleseed Recordings tenure has included a number of collaborations, and that trend continues with the delightful Tomorrow's Children.
Credited to "Pete Seeger with the Rivertown Kids and Friends," Tomorrow's Children is a remarkable late-period testament to Seeger's career-long belief in the joy of untrammeled creativity. Invited to join in a local fourth-grade teacher's music lessons, Seeger became a fixture at the school, and here's the result: 19 tracks of group performances featuring an American icon, a handful of special guests, and a whole bunch of kids who now have one amazing story to tell.
If there's any kind of gripe to be had, it's that Tomorrow's Children doesn't always sound like a Pete Seeger record; though he performs on all the tracks, he frequently takes a back seat to his young collaborators, who even contributed lyrics to some of the songs. That's a minor complaint, though, particularly because it always feels like a Seeger album — this is a beautiful, clear-eyed testament to the power of using music to bring people together, of using simple ingredients to create something timeless, and of working locally to effect global change.
Though they're sometimes humorous, these aren't silly songs. They don't pander. They're for — and by — kids, but they don't stoop to make their points; they're direct and honest about their points of view, and they trust their audience to listen accordingly. Modern parents, accustomed to shielding their kids from anything more troublesome than a disagreement between Muno and Brobee, may blanch at the prospect of letting them hear songs about social activism, pollution, and the like, but that isn't doing anyone any favors.
As Seeger demonstrates here yet again, responsible citizenry starts with you — and it starts with nothing more complicated than your voice.