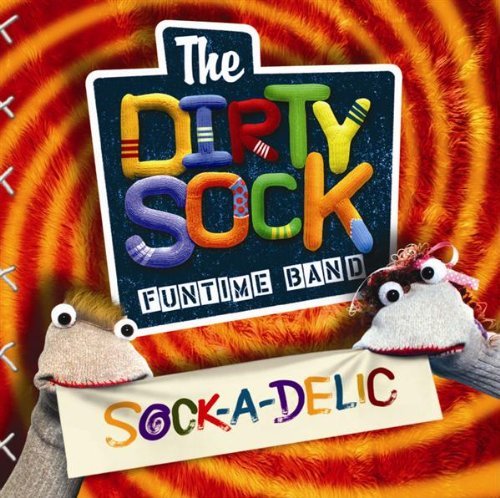 If you've spent any time at all watching the Noggin network (apologies, corporate rebranders, I mean Nick Jr.), you're familiar with the Dirty Sock Funtime Band, even if you don't realize it. Like Laurie Berkner, the DSFB pops up in the interstitial music videos that the station runs in lieu of commercials, particularly during episodes of Jack's Big Music Show — and like Berkner, they're squarely on the sugary, high-energy end of the kids' music spectrum.
Now, those of you who have been reading this site for awhile may remember that Laurie Berkner is one of my main musical nemeses — there's just something about the way she's always bouncing around with that smile on her face that bugs me — so I'm naturally predisposed to dislike any band that includes a pink-wigged man and a lead singer who looks like a tiny, hyperactive, Jew-froed Steven Tyler. And to be perfectly honest right up front, I sincerely doubt I'd ever watch or listen to the Dirty Sock Funtime Band on my own; for me, listening to this type of music is like eating frosting. A little goes a long, long way.
That being said, we've been all about the DSFB lately, because my daughter loves the DVD/CD combo they've just released, titled Sock-A-Delic. No, wait: She looooooooooooooooooooooooooooooooooves it. Like all semi-functional dads, I am powerless against this.
Essentially, Sock-A-Delic acts as a primer for the upcoming Dirty Sock Funtime Band Show, which is, I'm guessing, being developed for Nick Jr., and presents a sort of Monkees for the pre-K set. In other words, each episode revolves loosely around a silly plot, usually some sort of simple problem solved by music — like "The Surprise Party," in which the band plans a birthday bash for lead singer/scarf-wearer Mike, and distracts him by leaving a pogo stick out for him to find. There's music, there's hammy acting, there's that dude in the pink wig. All the things kids love and parents tolerate.
As far as this sort of thing goes, Sock-A-Delic is pretty painless. The songs are incredibly catchy, and the production values, while plainly low-budget, are thoroughly professional. (They do a lot with a little, using tricks like the old "hey, half of my body is in black & white" shot.) And really, as much as people love to use the old "__________ the whole FAMILY can enjoy!" line, I'm not the target audience for this stuff, so whether or not I love it is immaterial. It's entertaining for its target audience, offering colorful visuals and bouncy, positive music you can sing along with after the first listen. It's silly, and that's the point. Your little ones will love it.