There's never any shortage of cartoon characters in family entertainment, but few of them possess the unusual, undeniable appeal of Gustafer Yellowgold, the friendly, bug-eyed alien from the sun who arrived on Earth five years ago and has quickly achieved kindie rock star status. With his latest adventure, Gustafer Yellowgold's Infinity Sock, coming out on March 1, we decided now would be the perfect time for a chat with his creator: musician and illustrator Morgan Taylor.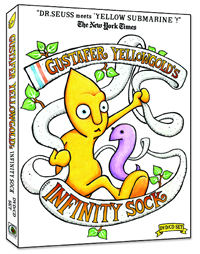 So let's talk about Infinity Sock.
Yeah! What's going on with it? (Laughs)
One thing I've always enjoyed about the Gustafer records is that they're not only mellow — as you often point out — but that they're also gentle, which makes a big difference, I think. And I also appreciate the fact that they don't pander musically, either to kids or to parents.
I don't — yeah, I don't think that does any good, to pander. It's not in my nature — I'm not even thinking about whether I'm doing it or not. Maybe I sensed that kind of thing in music as a kid, so I try and avoid it now.
I know you've said that you spent a lot of time listening to AM radio when you were a kid, and that influence is pretty apparent in your work. But do you remember listening to any music geared specifically to kids?
Yeah, I actually did, and the older my son gets, the more my memories of it resurface. I had a lot of the old book-and-record combos from Disney, like Br'er Rabbit and Snow White, and Alvin and the Chipmunks. And the music from Sesame Street and The Electric Company, of course. There was a lot of great music on those shows. Continue reading →