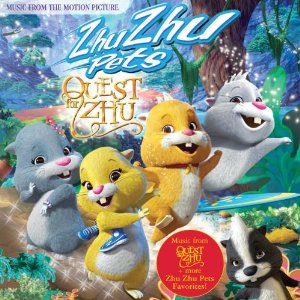 Two years ago, Zhu Zhu Pets were the hottest toy of the Christmas season, the 2009 version of Tickle Me Elmo, or Cabbage Patch Kids, and, as such were so popular that they were, ironically, impossible to find. Oh, Zhu Zhu Pets are, it is my understanding, robot hamsters that make little robotic hamster sounds and they squirrel around on the floor and burrow into plastic tunnels that you can buy for them to burrow into.
They've spawned. Satisfied with their dominance of American popular culture for a while, the Zhu Zhu Pets want more. More! This week, the Zhu Zhu Pets begin their multimedia empire in earnest. They're going to have a float at the Macy's Thanksgiving Day Parade. And on that float will be pop singer Savannah Outen, a YouTube star and Radio Disney sensation. Outen will be singing songs (with Zhu Zhu Pets and 130 hand-picked young singers) from the Zhu Zhu Pets new animated movie The Quest for Zhu, which stars a bunch of Zhu Zhu Pet characters singing familiar, kid-friendly pop and rock classics, along with originals by Outen and American Idol finalist Thia Megia. And that's the music part of the media phenomenon: the soundtrack to Quest for Zhu.
I know, I know. Likable, chubby, CGI rodents with high pitched voices performing "What I Like About You," "Celebration," "Let's Groove" and "ABC." Yes, I know. It's…familiar. But song choice is important. The Chipmunks, in their latest incarnation, which is what matters to you, the parent of a child, are horrible. The boy Chipmunks are smug and crass.
The girl Chipmunks are sexed-up, lazy girl stereotypes.
I'd much rather hear the Zhu Zhu Pets sing "ABC," a song originally sung by children, to children, then hear the Chippettes tell their boyfriends to put a ring on it. Plus Outen and Megia have nice voices, and know their strengths: there's nothing wrong with innocuous kiddie-pop, and something musical for kids to have of their very own.