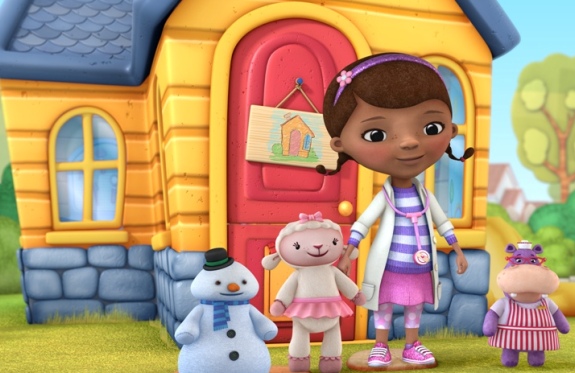 Disney Junior's Doc McStuffins is very popular in our house and with good reason. It's a pretty damn good show. It has a definite Toy Story vibe with the toys coming to life, but that's a minor quibble. I mean, if you're gonna bogart an idea, you might as well bogart from the gold standard. As a father of two daughters it's hard to ask for a better role model on television for the 2-5 year old set than Doc McStuffins. She's smart and takes charge when things go wrong.
It's a cute, creative, fun show with positive role models all around. There is very little to dislike about the show. If you're a fan of the show, this is a no-brainer. If you're not and you need a starting point, this is a pretty good place to begin.
Doc McStuffins: Time for Your Checkup
is the second DVD released for the show.
Episodes included on this DVD:
1. Gulpy, Gulpy Gators! / One Note Wonder
2. Tea Party Tantrum / Blast Off!
3. Arcade Escapade / Starry, Starry Night
4. Bronto Boo-Boos / Brontosaurus Breath
5. Doctoring The Doc / Hot Pursuit
And we're giving away a copy of the DVD! HOW TO WIN: Real simple, either share this post on Facebook or RT our tweet about the review. A winner will be selected at random on Friday June 1st.
In the meantime, enjoy these Doc McStuffin activity sheets!