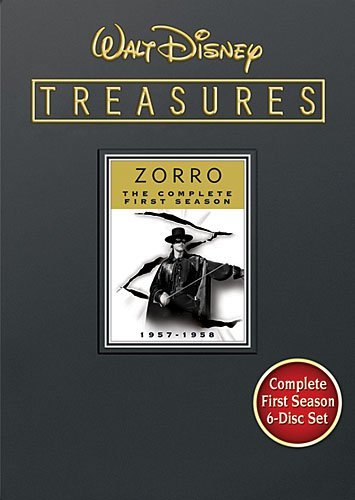 Nostalgia is a tough sell when it comes to today's children. With 21st century kids used to quick, Michael Bay-paced edits and brilliant, flashing colors to keep their attention, sitting them down to watch a black and white television series from 50 years ago may seem like a lost cause. With the release of Zorro the Complete First Season and the Complete Second Season in deluxe DVD format, Disney is showing the utmost confidence that this adventure series will delight not only the diehard Disney fanatics, but future generations of TV watchers. Trust me when I tell you that if you sit down with your son or daughter to watch Zorro, they'll love it, and you'll find your inner kid bursting with enthusiasm.
When Walt Disney decided to produce his first primetime series, he went all out to ensure that what he was airing met the high standards he set for his studio, both in motion pictures and television. He smartly chose to adapt the pulp novels of Johnston McCulley and partly based his vision of the masked avenger on the wildly successful silent film starring Douglas Fairbanks.  The Fairbanks version of the hero was a lighthearted take, adding humor and charm mixed with swordplay and spectacular stunts. Disney hired top writers to produce the show, he built an elaborate, permanent set on the Disney lot, and he brought together a cast of talented character actors to bring to life the colorful characters he envisioned. In the role of Don Diego/Zorro, an unknown actor named Guy Williams was cast. While this may have seemed like a risk, the actor exuded charisma as the masked avenger out to defend the oppressed. Moreover, Williams had an everyman, relatable quality that draws you in and keeps you entertained. And entertained you will be.
Every episode of Zorro is full of action, adventure and plenty of lighthearted humor. The combination of these three elements made it an instant success when the first season began airing in October of 1957.  Each of the half hour episodes were self contained, but continued an overall story arc that usually lasted about thirteen episodes, a commonly practiced method. While the first season saw Zorro acting as a lone avenger aided by his trusty servant, Bernardo (Gene Sheldon), the second season saw Zorro falling in love and considering giving up the mask to get married.
Only two seasons of Zorro were produced. However, the TV seasons were longer then (39 episodes), so there are 78 episodes included in the two DVD sets combined. Both of these collections have been lovingly remastered to look as fresh and new as possible. In addition to the remastered picture and sound, the collections also include rare Zorro episodes from Walt Disney's Wonderful World of Color, as well as insightful introductions by Disney expert, Leonard Maltin, who delivers plenty of history. The Walt Disney Treasure editions also come in a collectible black tin with a Zorro pin, an authenticity certificate and exclusive lithograph.
Pricewise, the Zorro collections compare favorably with any other TV series box sets being released. Considering the amount of material being given in the 6 DVD collections, and the quality of not only the remastering jobs, but the entertainment, these two latest installments in the Walt Disney Treasures series are worth the investment.