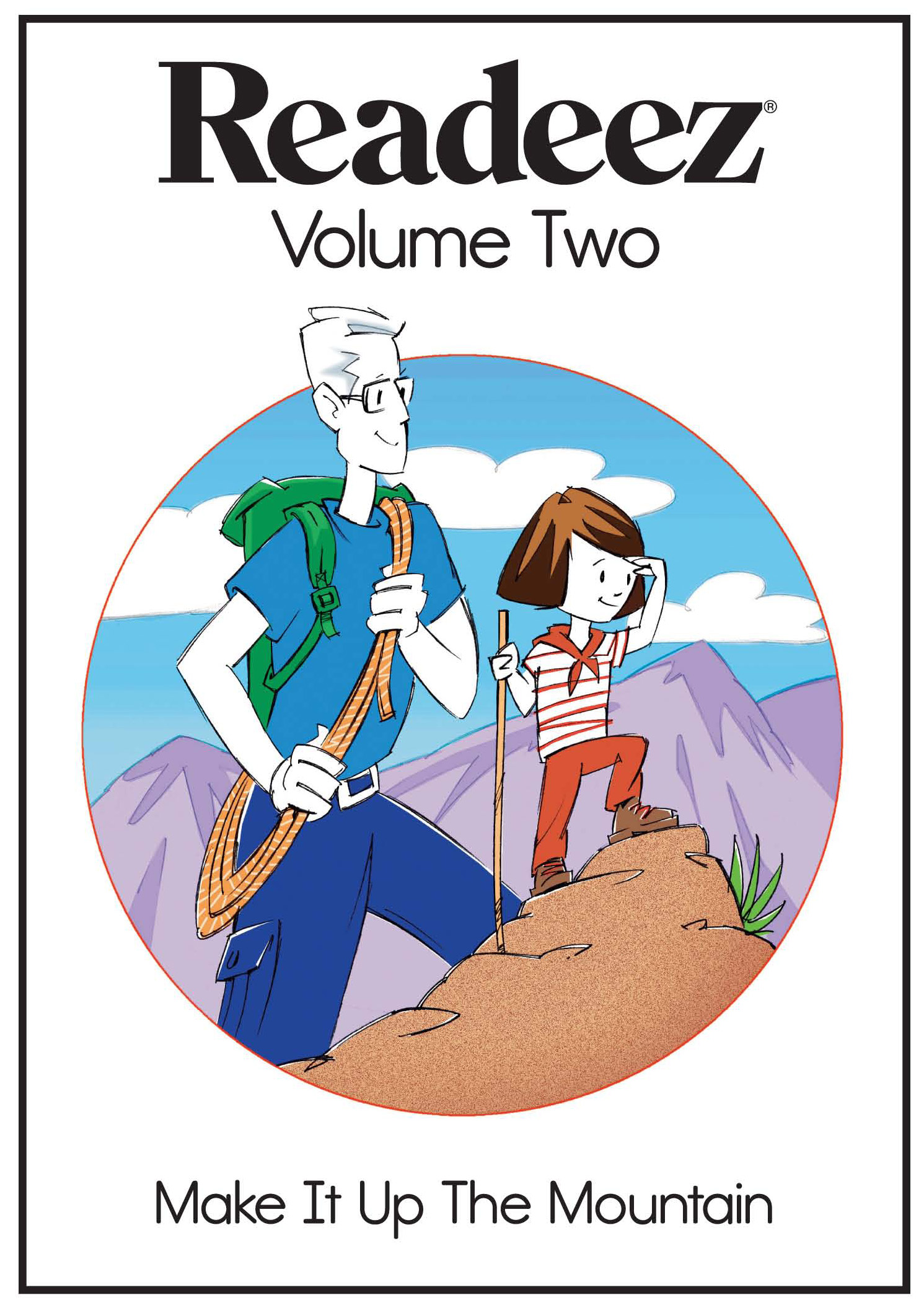 The following exchange has taken place in my home roughly four dozen times over the last 24 hours:
Me: I am a frying pan.
My daughter Sophie: (giggling) No, daddy, you're a man.
Me: April fool, April fool, April fool.
Why, you ask? Only because the animated duo of Julian and Isabel Waters is back with another collection of the delightful (and educational!) animated musical shorts known as Readeez. Readeez Volume Two: Make It Up the Mountain includes 30 additions to the series that started with last year's Readeez Volume One, and if you enjoyed the first batch, you'll be pleased to know Volume Two is even better. The videos have a little more going on, there's a slight theme tying them all together, and most importantly, the songs are even catchier and more varied.
Readeez creator Michael Rachap is a talented songwriter, one whose sharp command of different genres makes him uniquely well-suited to kids' music — and whose way with a wonderfully understated, beautifully goofy turn of phrase (see above) really helps set these songs and videos apart.
For a number of reasons, even the best children's music often sounds like it's trying too hard; sometimes the arrangements are crammed with too-obvious whimsical touches, sometimes the vocals are delivered with too much self-conscious clowning, and sometimes the lyrics can only provide an adult's approximation of a child's feelings. A song or album that fits any (or all) of these descriptions can still be entertaining, but something about it still rings hollow.
Rachap's work, on the other hand, is childlike without being childish.
His songs are simple in the best sense of the word.
Probably due in part to the inherent limitations of a series that's supposed to help kids learn to read as lyrics flash on the screen, Rachap keeps his meters punchy and his words short — but it works brilliantly, setting up rhymes like "I've got a hunch/You're going to love your lunch" or "Red and juicy in the middle/Every mom and dad and kid'll/Want a lot and not a little/Watermelon." But the songs aren't just clever — they can be really touching, too. Witness "Love's Enough":
The videos are cute and refreshingly simple, but my favorite part of Readeez is the music — partly because of Rachap's songwriting, and partly because "Julian and Isabel" have just about the most adorable interplay you've ever heard. So while I'm excited about Readeez Volume Two, I'm even happier about Songeez, a CD collection of 28 songs from the two DVDs, including "Love's Enough," "April Fool," "Watermelon," "Love Your Lunch," "How About That Cow," and "Boomba Boom":
The entire Readeez catalog is for sale at Readeez.com. At $15 a pop, they aren't necessarily the cheapest forms of entertainment you're going to find — but trust me, you and your kids are both going to get a lot more enjoyment out of Readeez than you will from anything on sale in the kids' video endcap at Target. Rachap is doing marvelous work here, and his reward — more Readeez in more homes — will be your reward too.