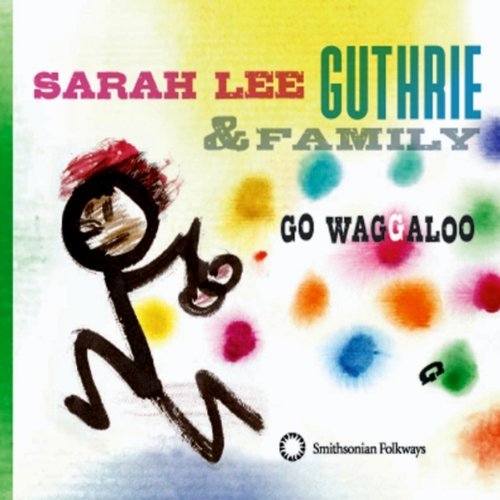 Sarah Lee Guthrie is Woody Guthrie's granddaughter — and the youngest daughter of Arlo Guthrie, whose "Alice's Restaurant" took satirical folk protest songs to a whole new level — so her first children's CD, Go Waggaloo, carries a greater weight of expectation than most debuts. Then again, most artists don't debut on Smithsonian Folkways, a label geared much more strongly toward the music of the past, but Guthrie's music fits right in: Waggaloo adds a vibrant new thread to the tapestry of traditional American music, weaving together a seamless blend of original songs and Woody Guthrie covers to produce a lovely, yet wonderfully raw, hootenanny record for the whole family.
Go Waggaloo is credited to Sarah Lee Guthrie & Family, and the credits reflect that spirit: Songwriting credits are spread between Sarah, her husband Johnny Irion, and their daughter Olivia, and a whole passel of Guthries — plus family friends like Pete Seeger — show up on the recordings. The connections between the musicians — and from the musicians to the songs — translates into an album whose warmth is felt from the first sunny strains of the opening track, "Don't I Fit in My Daddy's Shoes?," and lasts clear through to the final ringing chords of "Oni's Ponies." In between, you get a half hour of fun that includes the joyous title track, the startling morality tale "Oh How He Lied," the lovely "Big Moon," a transcendent group runthrough of the classic "She'll Be Coming 'Round the Mountain," and much more. It feels less like an album than an accidental peek into a very talented family's singalong, which fits right in with the Guthrie/Seeger musical mission statement: Singing is just as important as listening, and everything is more fun when we all join in.
And joining in is easy where these songs are concerned — as Arlo attests in his booklet essay, he recently concluded a concert by performing a Sarah Lee song he'd only heard on YouTube, and had the audience singing along before it was finished. Give Go Waggaloo a few spins with your family, and be singing along too.