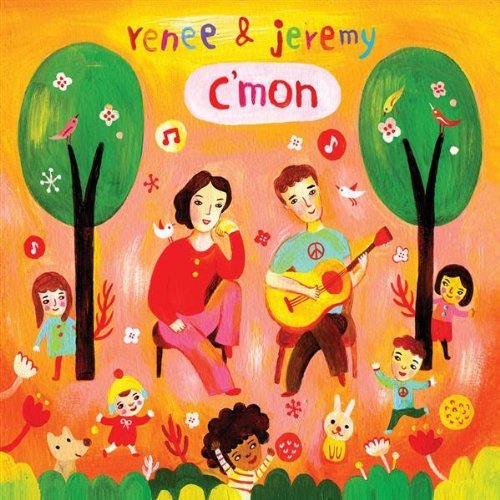 Lullaby albums are like the Christmas records of the kids' music world — they're evergreen sellers that don't really need to be great as long as they conform to a fairly narrow, easily reproduced aesthetic. But like Christmas albums, sometimes a lullaby record comes along that's really special, and such was the case with Renee & Jeremy's 2007 debut, It's a Big World. A magical blend of hushed acoustic instrumentation and beautiful harmonies, It's a Big World proved that not all children's albums from pop music refugees are created equal; in fact, sometimes, they even surpass the artists' "grown up" work.
Two years later, Renee & Jeremy have returned with C'mon, a markedly more uptempo collection that proves the duo isn't only capable of soothing little ones to sleep. But don't worry — these songs retain the peaceful warmth of It's a Big World, thanks to comforting melodies and the soft embrace of Renee & Jeremy's intertwined voices. It's a more varied effort, but it doesn't feel any less cohesive than the first; ballads like "Is It Really Any Wonder" blend seamlessly into peppier tracks like "Mama Papa Love," and at just a shade over half an hour long, C'mon will reach the final notes of its closing track, "Rely," long before you're ready for the album to end. (The solution: hours on repeat.)
C'mon touches on familiar themes such as patience ("Right Now"), sharing ("Share"), and familial love ("Mama Papa Love"), but it does so with uncommon intelligence and grace. In a crowded kids' music marketplace where hyperactive noise is often overpowering, Renee & Jeremy keep things simple, contemplative, and honest. This album will be a gift for you as much as it is for your children.