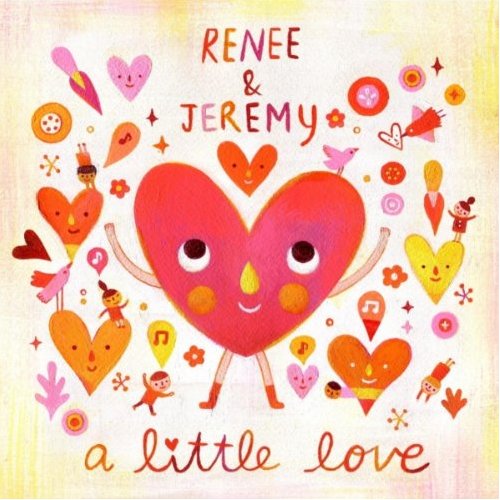 All About Renee & Jeremy Apart, they're Renee Stahl and Jeremy Toback, both veteran recording artists in their own right — Renee has released a pair of solo albums, and Jeremy was a founding member of Brad before moving on to his own solo career and his latest band project, Chop Love Carry Fire. Together, they form what might be kindie's soothing-est duo: the mellifluous voices behind the Dadnabbit favorites It's a Big World and C'mon.
What They Sound Like Take one part acoustic instrumentation, add one part heartwarming two-part harmony, and you've got the basic ingredients. Simple but effective.
Album Highlights A Little Love is a covers record, so these are all songs you probably know by heart, from AM gold (the Monkees' "Daydream Believer," Simon & Garfunkel's "59th Street Bridge Song") to classic rock (Supertramp's "Give a Little Bit," John Lennon's "Love," Queen's "You're My Best Friend"), a few surprising choices from the last 25 years ("Shiny Happy People," Coldplay's "Yellow" and the Chili Peppers' "Give It Away") and even a little sweet soul music ("Put a Little Love in Your Heart").
Suggestions for Improvement Tough question, because A Little Love is effortless listening, and the track listing moves smoothly from easy picks like "Daydream Believer" to wonderfully off-the-wall choices like "Give It Away" — and Renee & Jeremy manage them all with tuneful aplomb. It's a lot of fun. If I had to come up with a nit to pick, I suppose I'd wish for more unexpected covers on the next installment, but that's only because it's so much fun to see the looks on people's faces when they hear "Give It Away."
Target Age Group Everyone
Final Verdict A creative holding pattern, perhaps, but as placeholder projects go, A Little Love is more fun than most. A wise man once told me that you shouldn't bother cutting a cover of someone else's work unless you have something of yourself to bring to the song, and Renee & Jeremy observe that rule religiously here — you'll obviously recognize everything here, but none of the covers are slavishly faithful, and all of the new arrangements make sense. Listen to the whole thing below (or just buy it here), and see if you don't agree.