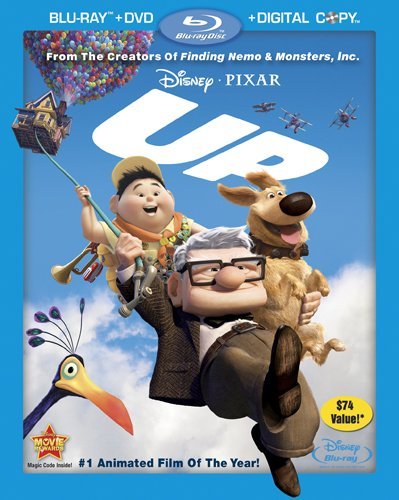 How do you make the Blu-ray release of one of the best movies of the year even bigger? Bundle it with a disc and a half worth of bonus features, plus a DVD, plus a digital copy of the film.
Oh and if you're Pixar, you do it on the same day you bring one of your earlier smash hits to Blu-ray — and attach just as much extra content to that release, too.
Since debuting with Toy Story in 1995, Pixar has defied expectations by not only cranking out smash hits while helping pioneer a brand new type of animation, but by opening up new vistas in the stuff that really matters — like, you know, storytelling. They've shown us what happens to our toys when we're out of the room, peeked into the hidden lives of bugs and fish, proved that monsters are just as scared of kids as kids are of monsters, exposed the travails of former superheroes, let us hear cars talk, put a rat in the kitchen, and made us fall in love with a robot janitor. Every time they announce a new movie, the odds of it not living up to its predecessors grows — has a studio ever held a perfect batting average for this long? — so when it came out that Pixar's 10th feature would follow the adventures of a grumpy old man who sails away in a house to which he's tied thousands of helium-filled balloons, bets were high that Up would mark the spot where the house Buzz Lightyear built fell down.
How about that? With 98 percent at Rotten Tomatoes and almost $650 million in worldwide box office receipts, Up made it a perfect 10 for Pixar — and if you missed it in theaters, now's your chance to bring it home in glorious high definition.
Up tells the story of Carl Fredricksen (Ed Asner), a widowed balloon salesman who once dreamed of high adventure in the jungles of South America, but ended up building a life with his wife instead — and since her death, he's watched his neighborhood slowly be taken over by developers who would like nothing more than to buy his property and turn it into a plot for just another new building. Faced with losing his house and being committed to a rest home, Carl improvises by turning the entire building into an airship, finally setting sail for those jungles — with a surprise guest in tow. Eight-year-old Russell, a Wilderness Explorer Scout who's been pestering Carl to let him help out around the place so he can earn a badge, just happens to be on the porch when liftoff occurs, and just like that, audiences have a mismatched duo to root for.
Eventually, Carl and Russell touch down at the mythical Paradise Falls, where they meet a talking dog named Dug (voiced, to great comic effect, by co-director Bob Peterson) and find themselves smack in the middle of a struggle between…well, I don't want to give anything away. Suffice it to say that Up is more than just an opportunity for Asner to be crotchety for 90 minutes — there's all kinds of dashing adventure and derring-do going on here, as well as at least one sweetly blossoming friendship, as well as the small miracle of cutting-edge technology being used to explore what it means to get old. Toss in an opening 15-minute sequence that draws you in and breaks your heart without a single line of dialogue, and you've got much more than just another hit: Up proves Pixar is still deepening and expanding its craft.
And hey, it looks great on Blu-ray, too. CG 'toons take full advantage of the format, pushing visual fidelity to its limits without having to deal with things like dirt, scratches, or the vagaries of real-life lighting; Up is no different, and you can purchase this set knowing you're getting exactly what you pay for: a beautiful (and beautifully made) film that the entire family can enjoy — and then they can gorge on all the bonus features, which include shorts (Partly Cloudy, which played before Up in theaters, and Dug's Special Mission, which functions as a sort of prequel), an array of terrific documentaries detailing the making of the movie (including the filmmakers' research trip to the tepuis of Venezuela), and all manner of games, alternate scenes, and expanded content.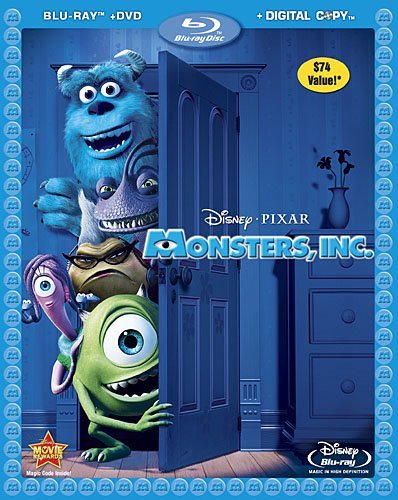 Making this even more of a banner day for Pixar fans is the Blu-ray release of the studio's fourth film, 2001's Monsters, Inc., which stars Billy Crystal and John Goodman as a pair of monsters who unwittingly bring an adorable little girl (who they nickname Boo) through her closet and into their world, where energy is drawn from the screams of children — and because kids aren't as easy to scare as they used to be, there's a bit of an energy crisis. Boo, for one, isn't afraid of the monsters at all — and making matters worse is their belief that children are toxic, so her presence in Monstropolis problematic, to say the least. Though it's generally regarded as one of Pixar's weaker films (hey, it's only at 95 percent at Rotten Tomatoes), Monsters still boasts a pair of terrific performances from Goodman and Crystal, as well as a typically terrific script, and it's never looked better than it does here.
The Monsters, Inc. Blu-ray includes features from the original DVD release, such as the For the Birds and Mike's New Car shorts, and adds a ton of new bonus content, from stuff you probably won't ever watch again (a look at the building of the Monsters, Inc. ride at Tokyo Disneyland) to stuff you probably will (a retrospective round table with the filmmakers). In fact, an entire disc of extra material — you get to go on a tour of the studio, hear about "banished concepts" that didn't make it into the film, and play a game — plus Disney's now-traditional DVD and digital copy discs. Of course, any major Pixar fan most likely already owns the double-disc DVD edition that was released in 2002, and it's still available — but as of right now, it's only $7 cheaper, and this movie has absolutely never looked or sounded better. If you don't own it yet, this is the version to own.