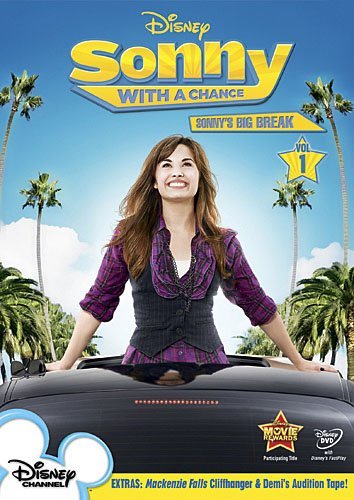 Sonny with a Chance: Sonny's Big Break (2009, Disney)
purchase from Amazon: DVD
Disney's Sonny with a Chance is cut from the same cloth as the mouse house's other tween sitcoms: bright, pretty young ingénue thrown into a crazy situation and surrounded by an ensemble of wacky supporting characters. In this case, the female star is Demi Lovato; the budding young music star that also has appeared in the Disney hit films, Rock Camp and Princess Protection Program. Lovato plays Sonny; she's a Midwestern teenager brought to Los Angeles to become the newest star on "So Random," a sketch show that resembles the old Nickelodeon series, All That. With her wide-eyed optimism and Midwestern gosh oh golly, Mickey and Judy "let's put on a show" enthusiasm, Sonny is a fish out of water and immediately at odds with "So Random's" other so L.A. starlet, Tawni (Tiffany Thornton). Tawni is a bratty teen whose ice cool heart is eventually melted by Sonny and they soon become fast friends.
The remainder of the "So Random" cast includes the Mutt & Jeff duo, Nico (Brandon Mychal Smith) and Grady (Doug Brochu). Smith and Brochu are great with the one liners and willing to make fools of themselves. They're my favorite characters. There is also the standard "bratty little sister" character, this time in the form of Zora (Allisyn Ashley Arm), the youngest cast member. While "So Random" is very popular, it competes for an audience with "Mackenzie Falls," a sort of Gossip Girl soap opera staring a group of prima donnas. Their leader is Chad Dylan Cooper (a funny Sterling Knight), who is so full of himself, he can't pass a mirror without looking. Chad loves getting the better of the "So Random" gang, but has a hard time breaking Sonny's spirit. This confuses him and strangely, makes him drawn to the girl.
Lovato is excellent in the title role. She seems game for anything the writers throw at her and she imbues her character with dignity and self-confidence. Sonny is not a snob and her intentions always seem to be good; she's never out to "get" anyone. Moreover, unlike some of the other girl stars on Disney, Sonny seems like the kind of kid you'd trust to babysit your kids and not try to sneak out of the house to meet her boyfriend. As for the rest of the cast, they have grown more comfortable working together and exhibit all of the charms and strengths of a good comedy ensemble. As an adult, not all of the material tickles my fancy, but my children sure enjoy the show, so the producers must be doing something right.
Because of Sonny with a Chance's set up, the audience is treated to the show within a show and sometime we get to see the "So Random" sketches. Think of this series as 30 Rock for kids. The skits will either make you groan because they're so bad, or they will make you burst out laughing; there is no middle ground. My favorite sketch (and one that had my daughter searching for it online) is the "Check It Out" girls, a couple of cashiers who begin each sentence with the phrase, "check it out." At first it was annoying, but after the fourth time watching it with my daughter I started laughing with her (and using the phrase, too).
I believe that watching the show with your kids is the key. Given the opportunity to view programming they find entertaining is a good way to begin communicating with them about quality and crap. I would rank Sonny with a Chance with the former. It has displayed growth since the first episode, as the four episodes on this DVD show. The DVD has some bonus features including Demi Lovato's audition and the online short, "Mackenzie Falls – Season Finale Cliffhanger. More importantly, a never before seen episode, "Sonny in the Middle," is included.