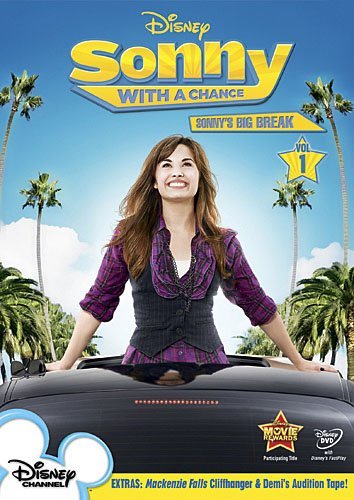 Sonny with a Chance: Sonny's Big Break (2009, Disney)
purchase from Amazon: DVD
Disney's Sonny with a Chance is cut from the same cloth as the mouse house's other tween sitcoms: bright, pretty young ingénue thrown into a crazy situation and surrounded by an ensemble of wacky supporting characters. In this case, the female star is Demi Lovato; the budding young music star that also has appeared in the Disney hit films, Rock Camp and Princess Protection Program. Lovato plays Sonny; she's a Midwestern teenager brought to Los Angeles to become the newest star on "So Random," a sketch show that resembles the old Nickelodeon series, All That. With her wide-eyed optimism and Midwestern gosh oh golly, Mickey and Judy "let's put on a show" enthusiasm, Sonny is a fish out of water and immediately at odds with "So Random's" other so L.A. starlet, Tawni (Tiffany Thornton). Tawni is a bratty teen whose ice cool heart is eventually melted by Sonny and they soon become fast friends.
The remainder of the "So Random" cast includes the Mutt & Jeff duo, Nico (Brandon Mychal Smith) and Grady (Doug Brochu). Smith and Brochu are great with the one liners and willing to make fools of themselves. They're my favorite characters. There is also the standard "bratty little sister" character, this time in the form of Zora (Allisyn Ashley Arm), the youngest cast member. While "So Random" is very popular, it competes for an audience with "Mackenzie Falls," a sort of Gossip Girl soap opera staring a group of prima donnas. Their leader is Chad Dylan Cooper (a funny Sterling Knight), who is so full of himself, he can't pass a mirror without looking. Chad loves getting the better of the "So Random" gang, but has a hard time breaking Sonny's spirit. This confuses him and strangely, makes him drawn to the girl. Continue reading →