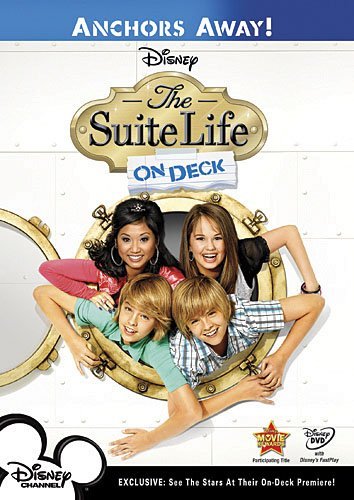 The Suite Life on Deck: Anchors Away! (2009, Disney)
purchase from Amazon: DVD
The Suite Life on Deck continues the storied saga of Zack and Cody, those lovable characters created by Dylan and Cole Sprouse on The Suite Life of Zack and Cody. That long-running Disney show had run its course, so Disney came up with this "Love Boat for kids" idea to keep the Sprouse twins in the fold. The characters moved from the fancy hotel where they lived (in a suite) with their mother to an ocean liner where they sail around the world and attend school on the boat.
Gone are Kim Rhodes as their mom, Ashley Tisdale as Maddie and the screwball staff of the Tifton hotel.
In their place is Debby Ryan as a love interest, as well as carryovers from the original series, the wonderful Phill Lewis as Mr. Moseby and Brenda Strong as the dimbulb London Tifton.
This new series, like its predecessor, can be funny at times, but it feels like we see the jokes announce their presence from offstage, ruining the surprise of the humor. Furthermore, I don't know how much more anyone can take of Strong's character, London. There's only so much stupidity a person deserves to watch. You may think I'm being harsh, but even my kids seem annoyed that London never seems to learn. Watching this new DVD, Anchors Away, I wondered if my children actually like the show or watch it just because it's on. Soon after the DVD came out of the machine, they seemed to forget we even had it. In a way, The Suite Life on Deck is just like that DVD: forgettable and, sadly, disposable. It's not that the actors are terrible. No, it's that the show feels so tired and clichéd that even guest appearances, like the episode featuring Tisdale, feel much more like ratings stunts than opportunities to come up with something special.
Still, the Sprouse brothers are fun to watch and seem game for any prop pratfall thrown their way and are more than willing to make fools of themselves for the sake of the show. I only wish the show were a little better. I hope their long-term Disney deal will eventually lead to the two boys branching off into different genres. Not that I want to see them grow up too quickly, but I believe there is some talent being drowned by their insipid sitcoms and if they don't do something about it soon, they may end up like teenage Jim Belushis.
The DVD includes four episodes from the series, including the pilot, as well as two bonus episodes. So, really, there are 6 episodes, which is a pretty good deal when you consider it.
The bonus features also include an interview between the twin brothers and their new co-star, Debby Ryan, ad a look behind the scene at the big premiere party on the show.