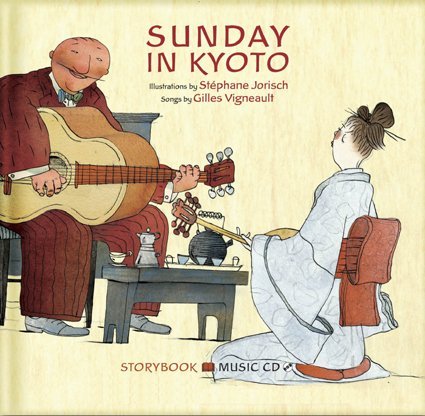 You may never have heard of Gilles Vigneault, but he's a cultural icon in Canada, particularly in Quebec, where his music so popular that one of his songs has replaced "Happy Birthday" as the birthday party anthem of choice. One of Vigneault's fans is Roland Stringer, founder of publishing company The Secret Mountain; he's referred to Vigneault as "French Canada's Pete Seeger," and now, he's giving Vigneault a chance to raise his profile with American listeners — and readers — with Secret Mountain's latest beautifully packaged book/CD combo, Sunday in Kyoto.
A collection of 14 Vigneault songs performed by Canadian singers including Patrick Watson, Thomas Hellman, Coral Egan, and Vigneault's daughter Jessica, Kyoto highlights Gilles' gentle whimsy; the title track, for instance, is about a Cajun musician who lives in Kyoto with his Japanese wife, where they lead jam sessions and perform for Buddhist monks ("Let me tell you about Yoshi / Fingers dancing on the harp / Has a pond of swimming carp / Just don't say the word 'sushi'"). Other songs continue in the same vein, from the sprightly "When the Danse Began" to the mock-operatic "Four Eggs" and effortlessly catchy "The Great Big Kite." The arrangements are clean and jazzy, with charmingly silly vocal contributions from the singers, and the lyrics manage to be appropriate and educational while also avoiding your typical well-worn kids' music subjects (one notable exception is "One, Two, Three, ABCD," which will use copious amounts of Jew's harp and lyrics about bovine peeing and farting to squeeze gales of laughter out of your children).
Sunday in Kyoto holds up well enough on its own as a CD, but as with Secret Mountain's last release, the Trout Fishing in America collection My Name Is Chicken Joe, what makes this release special is the accompanying storybook. Illustrated by Stéphane Jorisch, the Kyoto book really only depicts the album's title track, sticking with thumbnail sketches for the other songs, but Jorisch's artwork is simple, colorful, and beautiful. At under $12 at Amazon, this has all the makings of a perfectly affordable, wonderfully quirky gift for the mainstream-eschewing youngster in your life. For examples of the artwork — and samples of the French-language version of the album — click here.