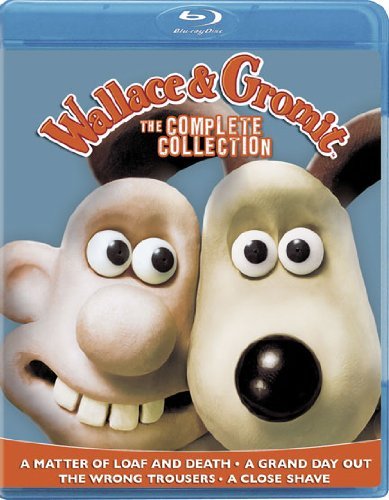 Boasting wonderfully silly storylines, a maddeningly addictive theme song, and distinctive stop-motion clay animation in the CGI era, Aardman Animation's Wallace and Gromit have gone to the moon, won Academy Awards, and even gotten their own full-length motion picture — but they've never gone to Blu-ray until now.
Timed to coincide with the DVD release of the new Wallace & Gromit short A Matter of Loaf and Death, the expansive Wallace & Gromit: The Complete Collection brings the doltish inventor and his sharp-witted canine companion to hi-def for the first time — and does it in style, packing in tons of bonus material, including audio commentary and behind-the-scenes featurettes for each of the four W&G short films: 1989's A Grand Day Out, 1993's The Wrong Trousers, 1995's A Close Shave, and the aforementioned Loaf, released last year. The picture is brilliantly crisp throughout, giving you a crystal-clear look at Nick Park's creations, right down to the fingerprints on the clay; the audio, while about as unspectacular as you'd expect for this sort of thing, comes in Dolby 5.1, 5.1 PCM, and Dolby 2.0.
It might not seem like Wallace and Gromit have been around for 20 years, but watching The Complete Collection from start to finish, it's easy to trace their evolution from low-budget (and relatively low-key) clay creations to the increasingly madcap and complex machinations of 2005's Were-Rabbit feature film (not included here) and A Matter of Loaf and Death, which kicks off with a murder and climaxes with scenes of mild peril that will be too intense for younger viewers. Though the loose framework has always remained the same — Wallace is obsessed with food and kind of a moron, and his horrible taste in women frequently gets the pair into trouble that Gromit has to bail them out of — their early adventures had a slow sweetness that's been left by the wayside in more recent years. This is probably a case of the filmmakers having more money and freedom to do what they always wanted to do with the characters; W&G have never been strictly for kids, and the humor in these shorts is often obliquely aimed at adults, and nothing in Loaf and Death is really worth getting worked up about. Still, if you're planning on viewing The Complete Collection with your little ones, this evolution is something to keep in mind as the set progresses.
All that aside, the Complete Collection Blu-ray gives you all the hi-def goodness you'd expect, with easily navigable menus to guide you through the reams of extra content, which include a scrapbook of Wallace and Gromit's inventions (complete with blueprints), 10 miniature "Cracking Contraptions" shorts, originally aired on the BBC in 2002, an episode of Aardman's Shaun the Sheep TV series, and a demo of the Wallace & Gromit's Grand Adventures videogame — more than four hours of viewing in all. Even better, it's selling for $19.99 at Amazon (the set also comes on DVD, where you get four discs and a pair of Wallace and Gromit figurines for two dollars more), making it a terrific value for any animation fan. It isn't the type of title that'll make you go out and buy a Blu-ray player, but if you've already made the upgrade, pick this up without delay.