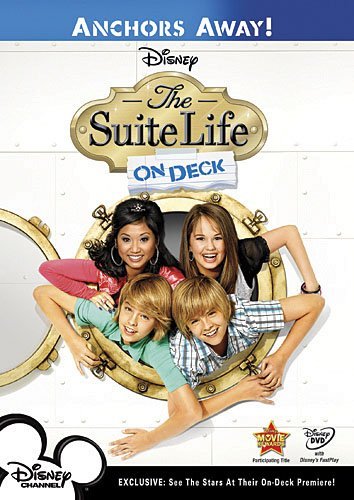 The Suite Life on Deck: Anchors Away! (2009, Disney)
purchase from Amazon: DVD
The Suite Life on Deck continues the storied saga of Zack and Cody, those lovable characters created by Dylan and Cole Sprouse on The Suite Life of Zack and Cody. That long-running Disney show had run its course, so Disney came up with this "Love Boat for kids" idea to keep the Sprouse twins in the fold. The characters moved from the fancy hotel where they lived (in a suite) with their mother to an ocean liner where they sail around the world and attend school on the boat. Gone are Kim Rhodes as their mom, Ashley Tisdale as Maddie and the screwball staff of the Tifton hotel. In their place is Debby Ryan as a love interest, as well as carryovers from the original series, the wonderful Phill Lewis as Mr. Moseby and Brenda Strong as the dimbulb London Tifton.
This new series, like its predecessor, can be funny at times, but it feels like we see the jokes announce their presence from offstage, ruining the surprise of the humor. Furthermore, I don't know how much more anyone can take of Strong's character, London. There's only so much stupidity a person deserves to watch. Continue reading →