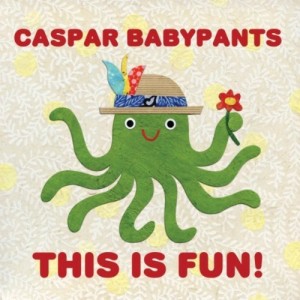 If you had told me 15 years ago that I'd be listening to a children's album from the guy who sang "Peaches" — and really liking it — I would have called you crazy. And yet here we are with This Is Fun!, the latest kindie gem from Chris Ballew, a.k.a. Caspar Babypants: 20 tracks of bouncy, gently madcap fun for the whole family.
Ballew has always taken the spraygun approach to recording music, loading his albums with lots of bite-sized songs, and that's still true now that he's making music for little people: This Is Fun!'s longest track is 3:21, but most of them clock in around the two-minute mark, which is just enough time to burrow into your brain. This is Ballew's third Babypants outing since 2009, and if you've heard his earlier stuff, you know what to expect: multitracked vocals, minimalist arrangements, and bubbly tempos, with plenty of chorus repetitions. Ballew's approach to song selection remains the same, too — This Is Fun! includes an assortment of covers ("Shoo Fly," "Mister Rabbit," "Buckeye Jim," and, um, Nirvana's "Sliver") sprinkled between like-minded originals.
The list of rockers-turned-Pied Pipers is as long as your arm, but Ballew's songwriting has always been fundamentally childish in the best sense of the word, and with Caspar Babypants, he's found a natural outlet for all that goofy energy.
Like the album title says, This Is Fun!