There are so many Scholastic Storybook Treasures releases that you need a special shelf (or three) just to hold them all, which makes it something of a challenge to review them as they come out — but release schedules be damned, this is one product lineup that deserves your attention, no matter how massive it gets. These three titles are the latest Treasures to grace the Scholastic Storybook lineup: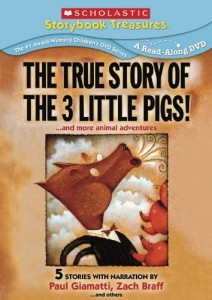 The True Story of the 3 Little Pigs! … and More Animal Adventures, featuring five stories and a handful of extras. The extras are more for parents — your kids probably aren't going to sit still for interviews with the author and illustrator of The True Story of the 3 Little Pigs! — but the main feature includes about an hour's worth of dependably entertaining stuff.
The headliner is Jon Scieszka and Lane Smith's 1989 favorite, which gives the wolf's perspective of the classic tale; here, it's narrated by the suitably wolfish Paul Giamatti.
Batting second is the Zach Braff-narrated Wallace's Lists, adapted from the Barbara Bottner/Gerald Kruglik/Olof Landstrom book about a mildly OCD mouse whose need for lists is challenged by a new friend; rounding out the disc are animated versions of Helme Heine's The Pig's Wedding, D.B. Johnson's Henry Builds a Cabin, and Simms Taback's This Is the House That Jack Built. They're all fine stories, loosely connected by theme, and offering the same blend of entertainment and education (the box says this title supports "early reading, problem solving, and friendship," if you're worried about that sort of thing), and for less than $15, it's a worthy addition to your rainy-day DVD stash.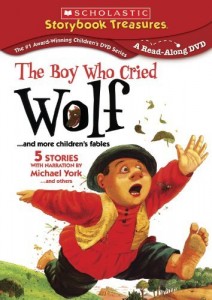 Speaking of wolves, we also have The Boy Who Cried Wolf … and More Children's Fables, collecting another five stories, plus extras (again, of more value to parents than kids, including author interviews and discussion questions), with the main features weighing in at a collective 74 minutes.
The Boy Who Cried Wolf offers a more eclectic blend of Scholastic titles, ranging from newer releases (this Peter Scolari-narrated version of Wolf is adapted from B.G. Hennessy and Boris Kulikov's book, released in 2006) to classics (Tomie dePaola's Charlie Needs a Clock and Marcia Brown's Stone Soup), and as a result, picture and audio quality varies widely. My kids never seem to care, though, and I actually prefer the primitive animation and spicks and specks on the older clips, which make them feel real in a way the hyper-stylized, hermetically sealed worlds of the Backyardigans and Team Umizoomi never will.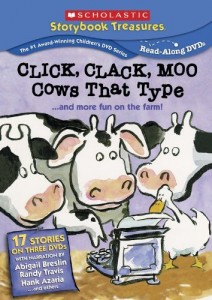 Finally, we have the three-disc Click, Clack, Moo: Cows That Type … and More Fun on the Farm! collection, which bundles together 17 stories for nearly three hours of animal-themed fun. As with most other Storybook Treasures collections, there's some overlap with other titles in the series, so you'll want to break out your fine-toothed comb to figure out what you already own — but if you're just starting out with these DVDs, this is a good place to start, as it offers adaptations of some perennial kids' favorites (Giggle, Giggle, Quack; Duck for President; Chicken Little; Diary of a Spider; and, of course, the story in the title) with narration from Hollywood luminaries like Abigail Breslin, Randy Travis, and Hank Azaria.
Perhaps the best thing about this collection — and all the Scholastic releases, really — is that it's priced to sell: it lists for under $25, and you can get it at Amazon for even less, a price that in no way reflects the quality of its contents. Parents who don't want to dunk their kids' brains in Nick Jr.
or Disney's high-fructose goo can feel good about the Scholastic Storybook Treasures series, and you can build a healthy collection without putting a big dent in your wallet. What else can a dad ask for?