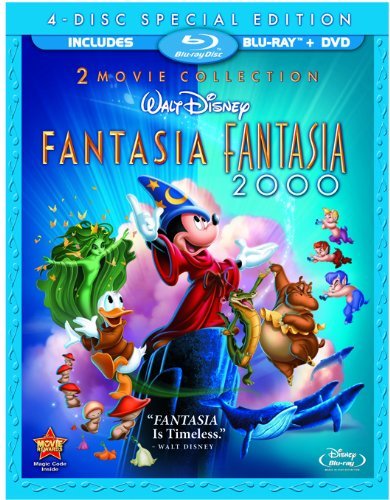 Fantasia/Fantasia 2000 (Disney, 2010)
Even if you're the type of person who thinks of Disney as a soulless princess factory, you'd be hard-pressed to deny that 1940's Fantasia is one of the most ambitious animated films of all time — and its sequel-ish thing, Fantasia 2000, was a gutsy-albeit-neutered attempt to recapture the freewheeling, untrammeled creativity that once defined the studio. Arguably Disney's all-time creative peak, Fantasia now comes to Blu-ray with a 7.1 soundtrack — and Fantasia 2000 in the bargain. With Disney's spotless hi-def record and the classic source material going for it, it's got to be a must-own, right?
Synopsis: Fantasia, Walt Disney's animated masterpiece of the 1940s, grew from a short-subject cartoon picturization of the Paul Dukas musical piece The Sorcerer's Apprentice. Mickey Mouse starred in this eight-minute effort, while the orchestra was under the direction of Leopold Stokowski. Disney and Stokowski eventually decided that the notion of marrying classical music with animation was too good to confine to a mere short subject; thus the notion was expanded into a two-hour feature, incorporating seven musical selections and a bridging narration by music critic Deems Taylor.
The first piece, Bach's "Toccata and Fugue in D Minor," was used to underscore a series of abstract images. The next selection, Tschiakovsky's "Nutcracker Suite," is performed by dancing wood-sprites, mushrooms, flowers, goldfish, thistles, milkweeds and frost fairies. The Mickey Mouse version of "Sorcerer's Apprentice" is next, followed by Stravinsky's "Rite of Spring," which serves as leitmotif for the story of the creation of the world, replete with dinosaurs and volcanoes.
After a brief jam session involving the live-action musicians comes Beethoven's "Pastorale Symphony," enacted against a Greek-mythology tapestry by centaurs, unicorns, cupids and a besotted Bacchus. Ponchielli's "Dance of the Hours" is performed by a Corps de Ballet consisting of hippos, ostriches and alligators. The program comes to a conclusion with a fearsome visualization of Mussorgsky's "Night on Bald Mountain," dominated by the black god Tchernobog (referred to in the pencil tests as "Yensid," which is guess-what spelled backwards); this study of the "sacred and profane" segues into a reverent rendition of Schubert's "Ave Maria."
Video: Disney has made a show of reissuing Fantasia every so often, but since flopping during its initial theatrical run, it's been one of the studio's black sheep — pretty much all anyone thinks of with regards to the movie is that "Sorcerer's Apprentice" sequence, and until classical music and/or dialogue-free animation become hugely popular, that probably isn't going to change. All that said, the Fantasia/Fantasia 2000 Blu-ray/DVD combo pack is probably about as good as it's going to get for these movies — and that's fine, because they look outstanding here. Disney has yet to release an archival Blu-ray that didn't blow me away, and this set is no exception. Fantasia's visuals are pure, clear, and stunning, with rich colors and deep, inky blacks; while some evidence of the film's age pops in here and there, it's very minor, and never detracts from the immersive warmth of the picture. This is classic hand-drawn animation at its finest.
Fantasia 2000, meanwhile, is more of a mixed bag; technically, it's superior to the original, but because Disney got a little fancier with the animation, mixing CGI in with traditionally drawn sequences, it's aged a little less cleanly than Fantasia. (For example, nothing in Fantasia looks as clunky as the computer-animated whale sequence.) On the other hand, some of the 2000 passages really are stunning, such as the "Rhapsody in Blue" sequence, which uses Al Hirschfeld-style lines to evoke a clear New York vibe. As a standalone film, it doesn't work nearly as well, but as an appetizer-sized appendix to the original, it has its moments.
Audio: Impeccable. Disney used Fantasia to meld classical music with animation, but as much care as the studio took with the animation side of the movie, it's really an audio showcase. This is perhaps less true for Fantasia 2000, which started as an early IMAX release, but it's no less of a workout for your home theater speakers — together, they provide wall-to-wall sterling sound, and hours of classically themed magic for the family. I was thrilled; my five-year-old daughter, who listens to enough classical to have a favorite composer (Tchaikovsky), was enraptured. Plenty of Blu-rays have spotless soundtracks — very few of them take advantage of the medium this thoroughly.
Special Features: Here's this set's weak point, if you're really looking for one: the Fantasia/Fantasia 2000 relegates the making-of features from the previous DVDs to BD-Live status, which is bound to be an annoyance for folks who either don't have broadband or don't have Blu-ray players with built-in wifi capability. It's a puzzling omission, but there's still plenty of bonus content to choose from, from the somewhat lame (a glorified commercial for the Disney Family Museum) to the fascinating (three audio commentaries for Fantasia and two for Fantasia 2000). You also get a nine-minute featurette on Musicana, Disney's planned annual Fantasia addendum, a feature-length look at the Disney/Dali collaboration Destino, and more.
Bottom Line: Quibble if you must with the special features, but the bottom line is that this is the best either of these features have ever looked or sounded, and at roughly $25, this is one hell of a bargain for a four-disc combo pack sporting Blu-rays and DVDs of both movies. Do you love animation? Do you love music? This deserves a spot in your collection, no questions asked.