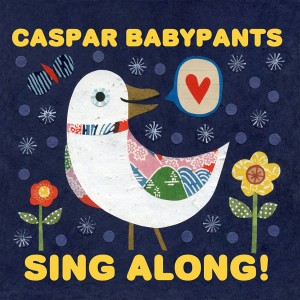 If you've been reading Dadnabbit for any length of time, you already know I'm a huge Caspar Babypants fan. We gave an enthusiastic thumbs up to the last Babypants joint, This Is Fun!, and I had a great time during my conversation with Caspar (a.k.a. Chris Ballew, part-time frontman for Presidents of the United States of America) back in April. The bottom line is that he's a smart guy who cares a lot about what families listen to together, and he has the instantly addictive songs to prove it.
"How addictive?" you ask. Well, here's the most recent example in our house: The new Caspar Babypants record, Sing Along!, arrived in my mailbox right before I left for a 10-day visit to my sister, who just had her first baby. By the time I returned home, my wife and kids had all memorized every line of the album — and my daughter had already serenaded her new cousin with a solo Flip cam rendition of the beautiful Sing Along! track "Crawl."
Like his previous releases under the Babypants moniker, Sing Along! comes stuffed with songs — 20, to be exact — with most hovering in the one-to-two-minute range (the longest track, "Spider John," is a whopping 3:07). The album also continues the CB tradition of delving into the public domain; fully half of the arrangements on the record come from traditional melodies, either carried over more or less intact ("Ba Ba Black Sheep," "Ring Around the Rosie") or repurposed ("Wild Wild Time," which pulls a page from the Beethoven songbook).
During our interview, Caspar talked about being influenced by Ella Jenkins' work when writing for Sing Along!, and I think it's safe to assume her call-and-response technique inspired the album's title. But it's also a reflection of the stellar guest lineup he assembled for these sessions, including "Weird Al" (who plays accordion on the lovely "Long Long Dream"), Stone Gossard (who contributes bongos on a handful of tracks), Frances England, and the unlikely duo of Pete Droge and Rachel "Mrs. Gustafer Yellowgold" Loshak, who appear on the dreamy album closer, "Baby Cloud."
But don't worry, longtime Babypants fans — Sing Along! is absolutely of a piece with the rest of the Caspar catalog, which is to say it's eminently, effortlessly listenable. You can pretty much tape the family stereo shut for a month or two after inserting this CD — the songs are happy, gentle, funny, and above all, dangerously catchy. If your family is anything like mine, you'll be singing along in no time.