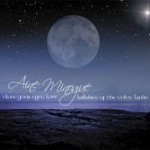 It must be 'Anti-Rockabye Baby' week here at Dadnabbit. I suggested not listening to their CDs in this lullaby album review and Jeff took them to task in another post. So we follow that up with a review of another lullaby cd not named Rockabye Baby.
Áine Minogue is a Irish harpist and singer who just released a new album Close Your Eyes, Love – Lullabies Of The Celtic Lands. While some might believe that all harp music is lullaby music, this is her first album made specifically with children in mind. Since I'm a sucker for all things Irish, and tomorrow is St.
Patrick's Day, this was an easy album to review.
The album consists of mainly traditional Irish Lullabies with a couple original lullabies written by Áine included.
The album also features numerous guests, including Seamus Egan, who is featured on the Instrumental Dreamland album.
Although the album is 47 minutes long, you might struggle reaching the end of the CD. Not because it's not good, but you'll be asleep before the album is over. But, that's the point of a successful lullaby CD, right?
If you're a fan of Irish music and have a little one in the house, Close Your Eyes, Love – Lullabies Of The Celtic Lands will be a fine addition to your collection.
For more information and liner notes on all the songs, visit Áine's website here.
Tracklist
1. Take Time To Thrive
2. William's Lullaby
3.  Slumber My Darling
4.  Close Your Eyes, Love
5.  Dún Do Shúil  (Close Your Eyes)
6.  Mary's Lullaby
7.  Gartan Mother's Lullaby
8.  The Ashgrove
9.  Suo Gan  (Welsh Lullaby) Theme from "Emperor Of the Sun"
10.  I Am Asleep