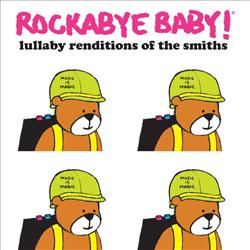 Hey, what's even more jiveass than an album of Smiths songs done lullaby style? If you answered "the same damn thing on vinyl," then you get today's gold star of sadness, because that's what the folks at Rockabye Baby! have planned for their next release, due next month.
"With the UK indie rock pioneers' biggest hits translated into the relaxing sounds of xylophone and bells, you'll never mope over another sleepless night," promises the label in a press release that I imagine was written between bouts of incredulous high-fiving by company staffers who, like me, can't believe there's a market for more than 30 of these things. "Parents can enjoy instrumental versions of the sweeping, majestic 'How Soon Is Now?' or the ironically bouncy 'Girlfriend in a Coma' while these very tunes gently rock your kids to sleep. Rockabye Baby is practical and fun!"
I'd substitute "cynical" and "pandering" for "practical" and "fun," but what do I know? I'm not the one who thought to build a media empire based around banging out my generation's greatest hits on a frigging xylophone.
Anyway, if you for some reason think your children are too dumb to handle hearing actual Smiths songs or are overflowing with disposable income and/or a love of irony, Rockabye Baby! Lullaby Renditions of the Smiths will be available on vinyl in time for Record Store Day on April 21. Want mp3s or a hard copy? Wait until April 24. And then go get a vasectomy.
Alternately, if you're looking for great lullaby records, I'll give you the names of a few right off the top of my head. These are all at least one thousand percent better than anything Rockabye Baby! will ever release, and were recorded by artists far more deserving of your dough. They're kid-tested, Dadnabbit approved:
Dean Jones, Napper's Delight
The Innocence Mission, Now the Day Is Over
Nancy Wilson, Baby Guitars
Jason Falkner, Bedtime with the Beatles