What's on your ipod? Probably lots of songs. Potentially terrible songs. Are you willing to play Russian Roulette with it in a public forum? We ask artists to take that chance with us and explain, cringe, hide and talk about the first five songs that come up when they hit "Shuffle."
Today, we let Laurie Berkner tell us what's on her iPod.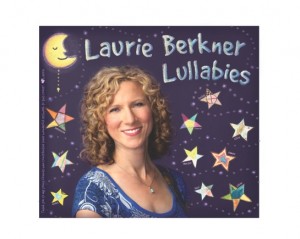 I was looking forward to writing this piece both because I was really curious about what would come up. As a songwriter I use my mp3 player as a work tool as much as I do for pleasure, so an inordinate amount of the music on there is either written or sung by me – or both. (The ridiculous number of times that I have had to purchase my own songs from itunes just to remember a part or play it for someone else, has taught me that I should always have access to my music). How many of my own songs would come up? And would there be any other little gems thrown in? I pressed play. Not all my songs, but still a healthy dose. And phew, yes, a couple of gems. Hurray!
1) All of Me by Gerald Marks and Seymour Simons, performed by Louis Armstrong
What a great start. I just requested this song at get-together a few nights ago, where a friend of mine was playing piano, and I had been enjoying reliving its greatness.
This is the version I know best (though he said his favorite was one by Willie Nelson that I'd like to check out). Louis Armstrong is just so fun to listen to and always sounds as though he is having a great time (particularly in this live version). I have two really strong associations with this song, 1)My brother singing it to us at our wedding – very sweet and very moving, and 2)Lily Tomlin and Steve Martin dancing to it at the end of the movie "All of Me" – one of my favorite movie moments. That's actually how I originally got hooked on the song!
2) Fly Me To The Moon by Bart Howard, performed by Laurie Berkner and James Maddock
Ah perfect! The first track of mine to come up was not one that I wrote or even played guitar on! In 2008 I released an album called Rocketship Run. I covered this amazing tune as the last song. It's one I've always loved (especially when Frank Sinatra sings it) and that I often sang to my daughter, Lucy, so it had a special place in my heart. In fact, I was inspired to record this version of it because I found myself singing it to her all the time at home during the year that I made the album. At first though, I had trouble finding the right feel for the guitar part. Luckily, a great singer/songwriter/guitarist named James Maddock happened to also be working at the same studio I was. He played along to a rough vocal track that I had already laid down, and I loved what he did. I was very fortunate that he agreed to play on the recording, and the song finally came together in a way that I was really happy with.
3) Helplessly Hoping by Stephen Stills, performed by Crosby Stills and Nash.
I was introduced to CSN (and sometimes Y) in college. For years they were some of my favorite musicians and I covered a lot of their songs. At that time I used to perform with other guitar players and singers at local bars, restaurants and coffeehouses, and we'd sing a lot of songs from the 60's and 70's. This song was a particular favorite of mine because the close harmonies are really great. They can make it really challenging to do live, but when we would get them right it was so satisfying! Just listening to this song now reminds me of those friends and those early days of going out and performing music.
4) Monster I'll Miss You from "Wanda's Monster" by Laurie Berkner, performed by Laura Hankin and James Ortiz
Last year I tried something new. I wrote the music to an off-broadway family musical called Wanda's Monster (based on a children's book of the same name by Eileen Spinelli). Barbara Zinn-Kreiger, who founded the organization Making Books Sing, asked me to collaborate with her (she wrote the script) and I was so happy with how it came out! When I was a kid I dreamed of becoming a musical theater star on Broadway – but getting to write my own music for a show turned out to be even better. The biggest surprise for me was finding out that I could even do it! After many years of writing kids songs for just myself to sing, I wasn't sure I would be able to come up with music that worked. It was a whole different experience to create words and music for other people to sing, and to have the songs I wrote actually help move a plot along. The musical is about a girl named Wanda (Laura Hankin) who has a monster (James Ortiz) in her closet that she is afraid of at first, and ultimately befriends. Toward the end of the story Monster has to find a new closet to live in (those are the "monster rules" that monsters live by) and the song is when they are saying good-bye. (But don't worry, we soon find out that he only has to move on to her cousin Ruthie's closet, so they do get to see each other again.) The actors who sang on the track, Laura and James, did an incredible job of bringing this song to life.
5) Fruit Salad Salsa by Laurie Berkner
OK, I admit it. I almost skipped this one. But the next song was another one of mine anyway. For fun I let it go one more just to see what I'd get, and it played The Carpenter's version of "Do You Hear What I Hear?" which I really only downloaded as research for my Christmas album (I love Karen Carpenter's voice and I loved singing that song as a kid, but I don't have any real connection to this particular version.) No cheating, here's a bit about Fruit Salad Salsa: I started writing music for kids because I had a job as a pre-school music specialist. In that role at one of the schools I taught at, I was supposed to (along with the movement teacher, Debra) help the kids put on an end-of-year performance. Each year I would write songs for the kids to perform that incorporated Debra's movement ideas There was always a theme, like Transportation or The Environment.
I wrote this song for the Food theme. I thought that creating a song with a "salsa" beat would be a fun play on words. Then adding the fruit salad element made it easier to come up with lyrics for the 4 and 5 yr-olds who would be singing it.
(It was also much easier to imagine a mango dancing than a bowl of salsa busting a move.)
You can find Laurie out touring this summer (we saw her this weekend and she was wonderful) and/or if you haven't picked up her Lullabies record, I suggest you do. The duets with Brady Rymer are lovely and the remakes of some older tunes are well worth the investment.