What's on your ipod? Probably lots of songs. Potentially terrible songs. Are you willing to play Russian Roulette with it in a public forum? We ask artists to take that chance with us and explain, cringe, hide and talk about the first five songs that come up when they hit "Shuffle"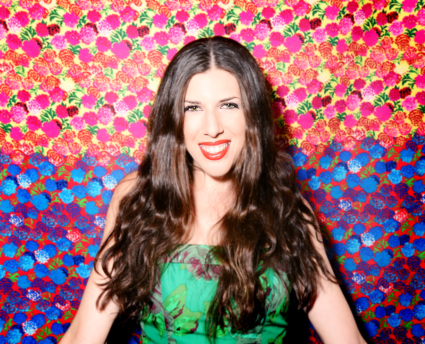 Joanie Leeds is a month away from releasing her 6th(!) kids record. Good Egg will be released on June 24th and this time around, she funded the record via KickStarter. She brings along Mista Cookie Jar (on the insanely funky 'Drummer Dan') and Jacob Stein from The Pop Ups (on the back and forth wordplay on "The World Is Your Oyster") to help out. Of course, the production from Dean Jones shines through on Good Egg.
The new record is all over the map on genres, but never does it feel contrived. She effortlessly jumps from rocking out to a breezy ukulele tune. Easily the highlight on the record, is the singing on 'Hipster In The Making." Joanie brings some clever lyrics to the table, but the harmonies from her band, the Nightlights bring to this track just shine.
But now, we find out what's on her iPod…..
Joanie Leeds iPod: 1583 albums, 117 genres, 848 artists
Track 1: I Thank You. Artist: Sam & Dave. Album: The Stax Story, Disk 2- Kinda Blue
Initial reaction: After a big smile and a little head bop, I noted this was the perfect song to queue up first. What a classic!
Why did you add it? I was given the 4 disk Stax Collection as a gift back in the early 2000's. What an amazing collection with artists such as Isaac Hayes, Otis Redding (my favorite!), Booker T, Mavis Staples… Sam and Dave aren't my favorites from the collection but they have some solid tunes.
What do you like about? While my favorite Stax artist is Otis Redding (My husband and I danced to 'I've been Loving you too Long' at our wedding for our first dance), Sam and Dave had some pretty catchy hits as well. When I was growing up, my mom listened to a lot of 102.7 Classic FM in Miami, Florida. Back in the day the station was full of Sam & Dave hits like 'Soul Man', 'Hold on, I'm Comin' and this one. The soulful sound that you hear in each of the instruments as they make their appearance is stellar. It's gritty and perfect.
Track 2: Campin' Tent Artist: Okee Dokee Brothers Album: Can You Canoe?
Initial reaction: Hahaha, my buddies! Justin and Joe will laugh when they hear that they came up random on my shuffle. I LOVE this album. I was actually listening to their song 'Thousand Star Hotel' from the same album last night. So freakin' clever, as is all of their music.
Why did you add it? We always exchange CDs and when an ODBros CD arrives in the mail, I am always happy to listen as add to my permanent collection. Since my library is pretty vast, I tend to keep my kids music separate and may not download to iTunes after an initial listen. This album however is added without hesitation. (GRAMMY WINNING, I might add) They are great songwriters and I've had the honor of collaborating with Justin on my last CD, Bandwagon, title track. They just sent me their new CD, 'Through the Woods' – it's very good.
Do you want to skip it? No!
What do you like about? This song, along with the entire album is a perfect collection of canoe/camping songs. I love camping and the outdoors so while I value clever lyrics as a songwriter, I can also get behind the concept as a whole. This is kids music at it's very best. "I love my campin' tent. It's my transportable, affordable apartment" – genius!
Track 3: Winter. Artist: K's Choice. Album: Almost Happy
Initial reaction: Wow, I haven't listened to this album in at least a decade. After hearing The Okee Dokee Brothers, this song is such a downer!
Why did you add it? I first saw K's Choice and became a fan instantly when they threw their pick into the audience at Lilith Fair and I caught it! I bought their CD that night. I mean, I had the pick so I felt obligated. I have 3 of their albums and I much prefer the tunes from their earlier album 'Cocoon Crash'.
Do you want to skip it? Yes, a little, because I wasn't in the mood for a slow ballad but since I hadn't listened to this band in forever, I stuck with it. The lead singer's (Sarah Betten) voice is haunting and the guitar playing is pure and simple. Plus it's a live recording and you can always tell what a band really sounds like when you hear em live!
What do you like about? I love many genres- early 90's chick-rock included. Bands like K's choice, Ani DiFranco, Indigo Girls, Tori Amos and Paula Cole got me into writing my own depressing music back in college. Glad I got all of that out of my system in my teens and early 20's! Ha. No wonder I enjoy writing for children, this sad stuff can get heavy. At the same time, once a year, every girl is obliged sit in a dark room, listen to one of these bands and cry, right? Right?!
Track 4: Hath thou Considered the Tetrapod. Artist: Mountain Goats. Album: Live at Music Hall at Williamsburg
Initial reaction: YES!!! This must be one of the best song titles of all time.
Why did you add it? I found a live recording of this show on the internet… or maybe my brother did, I can't remember. I was AT THIS SHOW back in 2008 in Williamsburg, Brooklyn!
Do you want to skip it? Hell NO. It's a beautiful tune.
What do you like about? My brother is 6 years younger than me but when it comes to Indie Rock, he is the Godfather. You know those people who know every band before they get anyone else has heard of them? Like they scour and study Pitchfork with a fine tooth comb? This is my brother. He introduced me to The Mountain Goats (and about 1000 other Indie Rock Bands) in maybe 1999? I resisted because of John Darnielle's nasal tone and the fact that most of the recordings were low quality from a boom box but his lyrics are to die for and I learned to accept the low quality sound and love this band. I've seen them about 5 times and his fans are nuts. They know EVERY word and these are not your typical lyrics. They are very poetic and complicated. In this live version, you can hear everyone singing along. I met the lead singer, John, at his concerts twice. First time, I took a picture of him and my brother outside of this tiny Williamsburg bar a LONG time ago. Second time, he was standing next to me during his opener and I offered him a drink.
Track 5: Ghost. Artist: Phish. Album: The Story of the Ghost
Initial reaction: Laughed. I thought the boys might possibly make an appearance on this list. I have more Phish in iTunes than any other band. One may conclude I'm a Phan.
Why did you add it? I have pretty much every studio album they have released and tons (and I mean TONS) of their live shows. I have 7 different versions of 'Ghost' in iTunes. This tune is very different from the rest of their music but my favorite thing about it is Mike's bass line and the pick scrape toward the end. It's the first song on the album, short sweet and it's pretty darn funky.
Do you want to skip it? Nah. It's a solid tune.
What do you like about? etc, etc… When I was at summer camp around 11 or 12 years old, I heard my first Phish album. I was hooked at Fee. Years later when I was a freshman in college, I saw my first show in upstate NY and since then, I have seen them 24 times. 25 shows total. Every Phan knows the number of shows they've seen. But 25 is nothing compared to some people I've met. It's common to meet people at shows that have been to 90, 100, 200 shows. These crazy fans put The Mountain Goat fans in the rookie column.
You can find out more from her and her new album Good Egg at JoanieLeeds.com