Welcome to a new feature that should be a lot of fun. It's a tweak on The Friday Five from our good friend Michael Parr over at Popdose.com. It's pretty simple – have a kindie artist hit the shuffle button on their ipod, and tell us what comes up. Not a playlist, a shuffle of their entire collection of songs.
The songs that pop up could be good or could be filled with sadness and regret. No skipping is allowed, no matter how awful the song.
In fairness to the artists who will share their shuffled songs, I will share my 5 songs to set the bar. Low.
Dan Walsh's iPod – 13,637 songs, 2,842 albums, 34.2 days of music.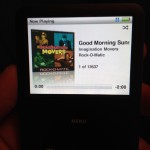 1. Imagination Movers – Good Morning Sunshine.
This was their first post-Disney release. I had no idea they even existed until they were no longer on Disney. So their Rock-O-Matic record was my first introduction to the band. It's not a bad record. It's not a great record. We pick and choose a couple tracks from this album for playlists. This song is a simple sweet acoustic track, with wonderful harmonies.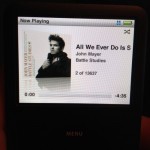 2. John Mayer – All We Ever Do Is Say Goodbye
And this is what happens when you import your wife's music (I love you sweetie, but no on this one). I don't dislike John Mayer. He's a decent guitar player and song writer, but he just seems like a giant douchebag. Fair or not, I usually just skip over any of his songs. I tried to play nice, but I skipped over this song at the :54 second mark.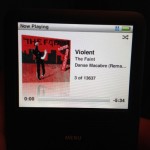 3. The Faint – Violent
Haling from my hometown on Omaha, Danse Macabre released on Saddle Creek Records in 2001 was a game changer for me. Electronic beats dropped over compelling lyrics, as a single, geek I immediately connected to this record. I would never skip over a track from this record. Easily one of my Top 10 records of all time. Being from my hometown helps.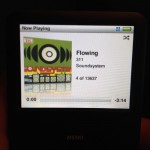 4. 311 – Flowing
Also from my hometown, one would think "Hahahahaha, I bet Dan regrets this one" but I don't. No really, I don't. I get a ton of grief for still liking these guys. Sure, I get bored and skip over some of their rap heavy tracks, but a straight ahead rocker like 'Flowing' never get old. At least for me it doesn't. It's currently on my running playlist. I also had a fun interview with the bass player back in March.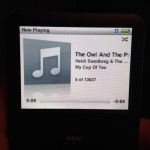 5. Heidi Swedberg & The Sukey Jump Band – The Owl & the Pussycat
Whew. Finally a true kindie artist. Was getting worried not a single one would show up. From her incredibly eclectic and joyful, My Cup Of Tea record. One of the quieter tunes from the album, but one that continually gets played in our household. And frankly, this album should be played in your household continually too.
To entertain myself I let the next 5 tracks play:
Ozomatli – Moose on the loose
Beastie Boys – Groove Holmes
Barnaby Bright – Gravity
Matthew Perryman Jones – The Angels Were Singing
Scythian – The Last One
So stay tuned, in the coming days/weeks/months we'll find out what songs came up from artists 23 Skidoo, Joanie Leeds, Lucky Diaz, and many more.