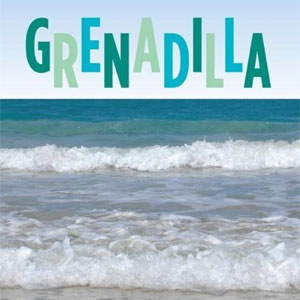 As you're no doubt aware if you've been visiting Dadnabbit for any length of time, I'm a huge fan of Dean Jones and Dog on Fleas — but since I'm something of a late convert to their music, it wasn't until late last year that I discovered the band's ranks once included Debbie Lan, whose dulcet tones now front the Capetown rhythms of kindie's first kwela-based group, Grenadilla.
What's kwela, you ask? Well, if you've ever listened to Paul Simon's Graceland, you've got something like an idea — it's South African music, full of memorable melodies, joyous harmonies, and the sunny sound of the pennywhistle. I haven't been able to stop listening to Grenadilla's debut for months (as I told Debbie during our chat, the only thing I don't like about her music is that there isn't more of it), and I thought it was high time we talked. If you haven't heard Grenadilla yet, you're in for a treat; visit their site for samples from the album, a link to a live NPR performance, and more.
Grenadilla's album never leaves heavy rotation in my house, and I don't think enough people have listened to it. Let's talk about what you're doing with the group.
These are songs that were just…in my head for awhile. They just sort of popped out at the right time, I guess. I don't really know how else to describe it. I mean, I always wanted to have something where I was singing with a group of women, and after I left Dog on Fleas, it seemed like a natural progression.
And with Grenadilla's kwela-influenced sound, this is also a return, of sorts, to your childhood.
Yeah, it is, actually. Stylistically, it's flavored with the street music where I grew up, really. It's funny — my family is still in Capetown, and I try to go back there once a year, and the last time I was there, I went into this huge record store and asked for the kwela section, and there wasn't one. The music has kind of changed into something called mbaqanga — I guess it has more of a Western influence. Kwela, as it used to be, isn't really considered a musical form, I guess.
But, you know, it's still going on. Simple, happy, upbeat melodies, pennywhistles.
Can you offer any recommendations to people who hear Grenadilla's music and want to delve deeper into kwela?
Oh, sure. The guy to listen to is Spokes Mashiyane — he's the king of the pennywhistle. There's also the Mahotella Queens, who are amazing — they've been around since the '60s. They were domestic workers whose fame skyrocketed because of their fabulous harmonies. There's also the Soweto String Quartet. I like what they do a lot because they can do the classical stuff, but they add their own style and rhythm to it.
If you aren't looking at the credits, it's difficult to tell whether the songs on the album are originals or traditional numbers. Not that the album feels like a musical anthropology lesson, but those influences are synthesized so cleanly that you can't really hear the seams.
The one traditional track is a Zulu song called "Babethandeza." The title means "grandmother," and it's really about the strength of the women in the village. The other cover is a Van Morrison song, "I Shall Sing," that I really liked, but we did it because I was still writing material. Everything else is mine.
Let's talk about those songs. What's your songwriting approach?
As I get older, I find that more and more I'm gravitating toward the music I listened to when I was growing up, and those rhythms have a calming effect. They're joyful. Those rhythms and melodies just kind of took over my writing space. As an artist writing and playing in clubs for adults, a lot of my material was about pain and unhappiness, and as I'm getting older, I'm just…I'm having a good life.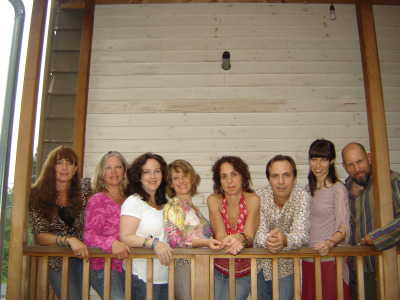 I'm enjoying my family, I'm enjoying my community, and the songs, I think, are just coming from that. From being grounded in that. I teach part time in a private school, I give private lessons, and I run an adult voice ensemble, and all that is focused around people making music together — and I think the music I'm writing was just a natural progression that came out of being in a community with kids and families, and just being happy with the work I'm doing. I'm really fortunate.
I'd say most kindie press releases I read contain words to the effect of "this is music the whole family can enjoy," but in Grenadilla's case, it's really true — to the extent that I feel like I have to ask you what makes this a "kids' music" band. There's a beautiful, innocent spirit to this music, and it certainly works for children, but what led you to take on that particular genre description?
You know, the truth is that I never really intended anything in particular. When I was playing with the Fleas, I really loved the family audience more than the general audience — I'd been writing and playing adult music for 30 years, but with the Fleas, I got a taste of something different. And I'm also a teaching artist part time, and I work with kids, and when the music came out — I never tried to write a particular subject. I almost feel like I'm channeling a lot of these songs less than writing them. They're just suddenly there.
I've been writing music for a long time, and this is really the first time I've felt this way. This music is about being quiet and listening to what's going on in my head, instead of trying to think of a particular subject to write about, or a specific type of melody. I sort of just intended to write, and this is what came out. The energy around it has been so great from the very beginning — everyone has been so positive, and it's been such an easy process. I never intended it to go in this direction, it just did.
And I get parents who tell me what you're saying, too — they bought the CD for their children, and then they find themselves listening to it when the children aren't around.
Grenadilla blends your kwela influences with a strong chorus of female voices. How did you know you were looking for that sound? How did it develop?
I've always wanted to do something along those lines. I've always loved Ladysmith Black Mambazo — those harmonies. And whenever I go to Capetown, very often in different places, there are groups of people standing and singing. It's so compelling. I guess three or four years ago now, I started an adult voice ensemble. We do varied material, and I teach parts — it's community singing. Once in awhile, we'll do a performance somewhere, but it's really a place for people to sing.
So I was doing harmonies with a group of 20 women, and I looked out at them and thought, "I wonder if I could ask a few of them to do something different with me." And when I looked at the group, I realized that the four or five women I was thinking of — I realized we're all part of the same private school where my daughter goes. We're very small, a very tight-knit community. We see each other at school all the time. Two of them work in the front office, one is a teacher, I've taught all their kids, so when you hear us, and when you see us on stage, it's a real community.
Do you know what I mean? It's not like we're all professionals. None of these women have done anything like this before, and they were all delighted to be invited to join a band. It's been an amazing thing. Our kids will come to rehearsal, or we'll pile them into the vans for the gigs, and a couple of our daughters make earrings, so they'll sell them at the shows. It's become a — it isn't a family family band, because we aren't all blood related, but I'm in my tenth year at the school, and we've all known each other for a long time. We really like each other. I think that's part of what people hear when they listen.
Related articles