My friend Jeff Bogle, of Out With the Kids, calls Brady Rymer's Love Me for Who I Am the album he was destined to make, and I couldn't put it any better. Full of hooks and effervescently charming musical turns, it has something for family members of all ages — and music fans of (almost) all persuasions — but that isn't even all of what makes it so special. There's also a really wonderful story behind the music, which, among other things, Brady shared with me during a recent interview. Here's a transcript of our discussion, and a widget that will let you stream the whole album while you read. Enjoy.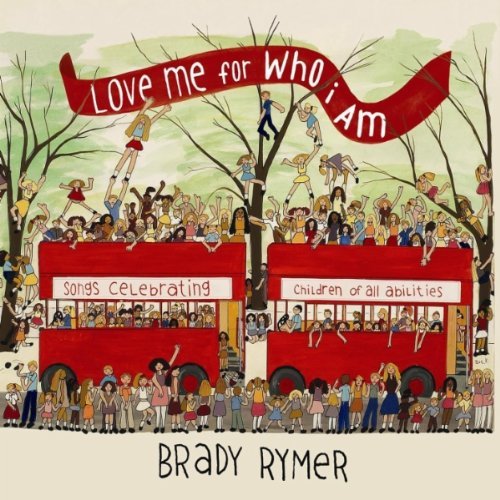 Your new album, Love Me for Who I Am, was a collaboration of sorts with a school called Celebrate the Children, whose mission is giving support and respect to children with sensory processing difficulties — conditions such as autism. How did you get involved with them?
Well, I was with this other band — I still am, actually — called From Good Homes. And by the late '90s, that band was dissolving around me, and it just happened to coincide, for me, with starting a family and having kids. And my friend Monica, who founded the school, knew I was looking to do something, and she said, "Come on out and play your guitar at our summer camp — the kids would love to hear your music." And that's how my relationship with them started. That was about ten years ago, and they just kept playing my CDs when I'd release them. Eventually, Monica ended up marrying Dan Myers, who produces my music, and that strengthened our connection to the school. I've kept going back to play those shows, and it's just been an incredibly great gig — always a lot of fun to do.
And then a couple of years ago, after a really, really nice show in the summertime, I said to Monica and Dan, "These guys need some songs. We really need to write some songs for them." They thought it was a great idea, and since they worked with the kids so much, I asked them to send me some ideas — so they sent me a couple of pages of phrases which either came from the kids, or came from thinking about their challenges. And then we just started banging out the songs from those phrases, and keeping that spirit, the spirit of the kids, close.
Was starting from the title a new way of working for you?
Yeah, it was, and it was great. I loved it. Sometimes, you just pick up the guitar and you don't know what's going to come out, and it takes awhile to reveal itself. But with a title right there…like, for instance, "I Don't Like Change." I knew that was either going to be a James Brown groove that doesn't change, or a gospel song that doesn't change. [Laughs] I was channeling the Blues Brothers on that one.
When you write, do you always start with a guitar?
I do. There was a time when we first moved into this house, and I'd sit down at the piano and I wrote a few songs like that, which is really nice. But these days, I usually pick up the guitar, or — which is great — just kind of write it in my head. That's pretty liberating. But honestly, listen, I was so excited — I got those pages from Dan and Monica, on yellow legal paper, and a lot of the songs just kind of came out as rough sketches. That rarely happens, but it's wonderful when it does, because you're kind of in real time, and it makes a difference — you know, you're like "I can't repeat that, so I need to do this." I think a lot of these songs were just ready to come out.
It's interesting that you put it that way, because Love Me for Who I Am is a really eclectic album. You can hear that approach.
Well, that's good. I've been working on that. [Laughs] And again, working from the titles makes that easier, because you look at a title like "Soft Things," and it's easy to see how it should be played. Same with "Keep Your Wiggle Alive." That was nice, to have kind of a blueprint that needed to be filled in.
Do you feel more of a freedom to play with different styles as a family artist than you did in the world of "grown-up" music?
Well, yeah, I guess so. Yes, because I don't even think about it, know what I'm saying? I don't think about restrictions, or fitting into some mold or style. It seems that what comes out and what communicates with people — with me first — that's that. And that is really liberating.
One thing I noticed on this album is that you write a lot from a child's perspective.
Yeah.
But it never seems cute. Do you know what I mean?
That's good! [Laughs] It's…I don't know, when it happens, it just happens, and it feels really fun to me. Really rambunctious. It's a blast to get in there and feel like you have some freedom with language, and like you can explore things.
Definitely, but it's a tricky line to walk.
I think it's also that these songs connected to me in my family life, with my kids. Like the song "Who Wants to Wear Shoes?," I was thinking about my kids in a Japanese restaurant when they were two and four, taking off their clothes, you know? "Check, please!" [Laughs] I think there always needs to be that personal element in there, and that makes the music truer. And I also tried not to get too bogged down thinking about the things I was saying — like with "Love Me for Who I Am," I mean, I just grabbed the guitar and responding, and trusting that it would come out.
I wanted to ask you about managing creativity as a parent. How did having children change your approach?
Luckily for me, right when my wife got pregnant, I think the songs I was writing for From Good Homes — I didn't understand them, because all of a sudden they started including words like "nest" and "home" and "father." [Laughs] For some reason, I just started writing about it. It became a huge creative endeavor to try and express that, and I was lucky to be able to make CDs out of that.
And in the early days, when they were little, it was great to have the time to just plop down in the middle of their world and start singing about things. I always think about this Woody Guthrie story — he'd be at home with the kids while his wife was gone during the day, and she'd come home and the little one would yell, "Mommy, look what I drew today!" and Woody would chime in with "Look what I wrote today!" [Laughs] But now, it is hard. Especially as they get older, you have so many commitments and the schedule is just crazy. I personally keep a digital recorder in my bag at all times. Sometimes you're walking out to the bus stop and your kid says something, and boom — that's a song right there. So I'll run back and have 15 minutes of just throwing it down.
You also learn to identify, I think, what you should spend time on and what you shouldn't. That's probably true whether you have kids or not, but it really is a skill you develop with children. You just don't have a lot of time. I mean, I even turn sound checks into a creative time. I love them. Everybody wants their sound checks to be shorter, but I'm like, "Hey, wait a second, man — I wanna write a song!" [Laughs]
I have to tell you — and I know you probably can't even respond to this — but I have a bit of a bone to pick with you for making me like a song that Laurie Berkner was involved with. I often joke that she's my kindie nemesis, but "Soft Things" is really lovely.

[Laughter] Well, you know, I heard her on it. I thought especially with a song like that, that's very repetitive, it would be nice to have a duet, and hey, I think she has a sweet voice, and she's a sweet person. It really worked out.
It did. And of course, you have a very special guest — Bernie Worrell — on the next song, "Tune Out." How did that happen?
We were at the stage when we were almost done with the record, and I was listening to that song, and it just didn't sound finished. And for some reason, I was listening to Stop Making Sense and Speaking in Tongues, and I started wondering who was playing those synths, and when I found out it was Bernie Worrell, I was like, "Oh, great. That'll never happen." But there's this website called eSessions, where if you're a musician you can list yourself for hire, and I saw him listed there. So I sent this email out of the blue to his wife, Judy, who's his manager, and they really wanted to be involved in the project. They have a nephew with autism, and their son has Down syndrome, so they had a personal interest, and it turned out that Bernie lives about 40 minutes from the studio where we were recording.
Bernie's such a sweetheart of a guy. We rented a mini-Moog and got the place all Bernified, you know, and he pulled up the clav sound and started doing all his riffs, and we were just laughing. He took four or five passes at the song, playing different things every time, and they were great. Just a very creative player. A million ideas. I think he really added to that song — I mean, it's a family song, but he added a little bit of melodic intensity.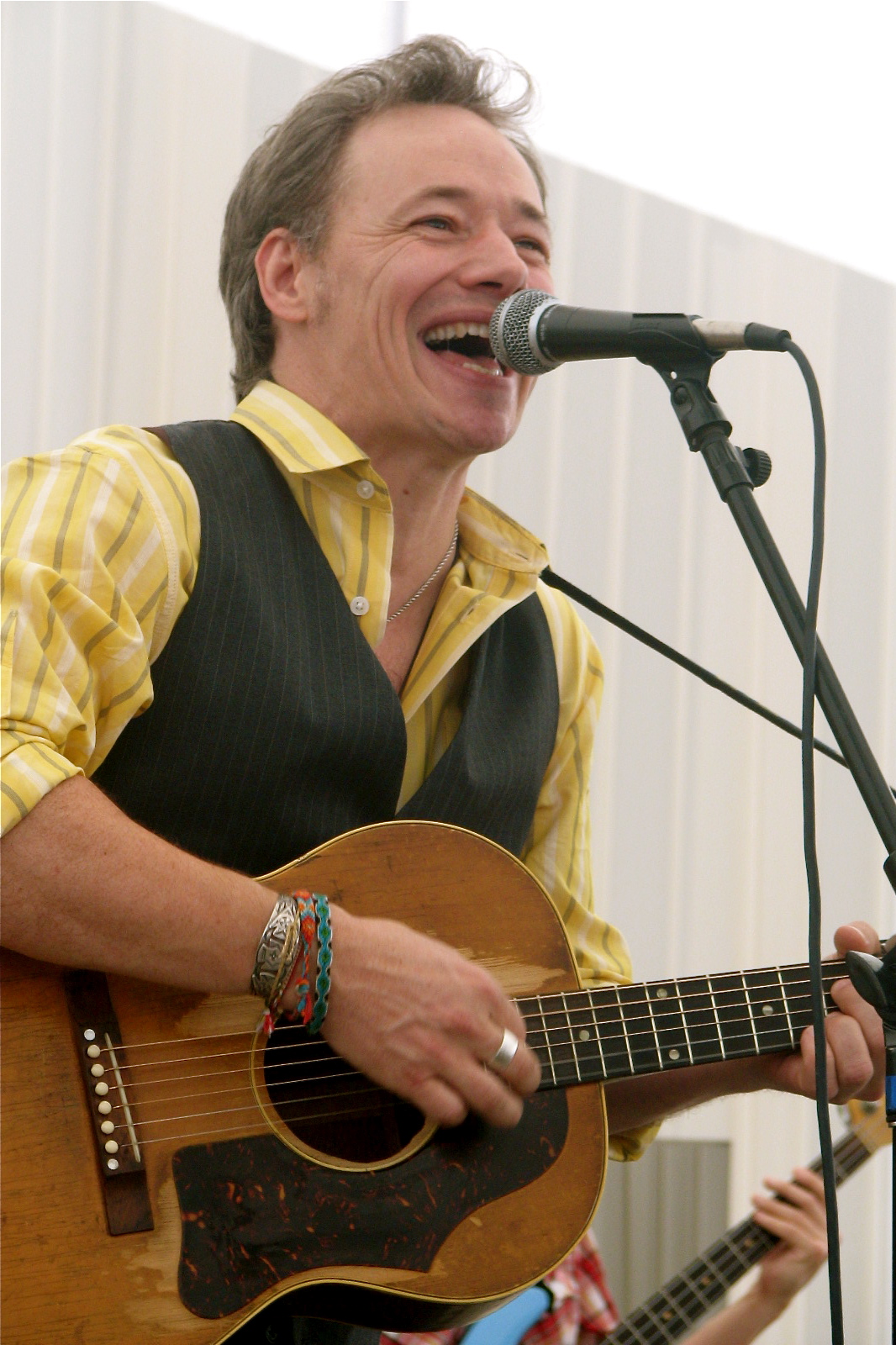 What's your recording process like? How much is live, and how much is pieced together?
Well, this time around, I wanted to work closely with Dan Myers, partly because he started a music program at the school, and I thought it would be really special if he and I did as much as we could together on this. Early along in the process, we discovered a few things, like this program called EZDrummer, which was created by a guy named Neil Dorfsman, who's a producer and mixer. He went into the Power Station in New York with a drummer named Nir Z, who's played on a bunch of things, and they sampled Nir playing a million grooves. All the sounds.
I heard about this — actually, I heard it at someone's house, and I thought, "Wow." I knew I wanted to work with Dan on the new album, and I didn't want to have to wait around for a band. I wanted the recording process to be pretty immediate, and also somewhat spontaneous with Dan and I, so we could control it that way. But I also wanted some pretty rockin' thing to play along with — I didn't want to go back and overdub my vocal and a guitar track, I wanted to do it live. And we were amazed at how well this worked for what we wanted to do, and how easy it was to get the groove.
I wanted the songs to be that immediate and energetic, and hopefully that exciting, even though we weren't cutting them with a band. And I think that's a good way to do it. I was happy that way — I was still able to sing out of tune in a few spots. [Laughs]
Did doing it this way help the recording come together faster?
Well, not really. We live about three hours away from each other, and we have very busy lives, so we'd have to grab a couple of days here and there. I guess we were down to about a tune every couple of days, but that was fine. We're both pretty laid back that way. We'd spend hours just traveling down the cul-de-sac of creativity, as we call it, because you come right out the same spot you went in, you know? [Laughs] We weren't worried about the time. That's another nice thing about working with one other person — and not renting a studio, because we were using Dan's space.
I watched a documentary last summer about Clay Marzo, a professional surfer who has Asperger syndrome, and it talked about how long it took his family, and his doctors, to understand what made him different. Hearing you talk about Bernie Worrell's family really underscores, I think, not only our evolving understanding of the conditions and the issues that  Celebrate the Children is working to raise awareness for, but just how many people they really affect. I know Love Me for Who I Am isn't out yet, but what kind of response have you been getting from your audience?
Well, so far, lots of positive feedback. I mean, my family isn't immediately affected by this, so I can't even imagine — I'm just a guy singing about it, and I can't pretend otherwise. I can just do the shows and hopefully bring a little joy. I think one of the cool things about this project is that we were able to record the songs up to a certain point and then let the kids listen to them, including some of the kids who inspired them, and they were just overjoyed. One girl said, "Peanut butter jars with wings are flying around my head, I'm so happy right now."
That's a process I've never had the privilege of taking part in. So far, so good.
Well, thank you. I think it's the best thing you've ever done, and I don't envy you when it comes time to top it.
Well, I've got a new batch that I'm really excited about. They'll be totally different. I'll just change my name. Brandy Roman and the Cheaptones! [Laughter]
Related articles