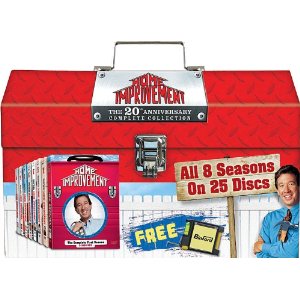 Hard to believe it's been 20 years since most of us were introduced to Tim Allen and his blue collar comedy. Home Improvement, the ABC sitcom built around Allen and his stand-up material, premiered in September of 1991 and quickly became a hit. Running for eight years, the series was a traditional, three camera sitcom that utilized Allen's relatable personality and talent as an actor and comedian.
His character was Tim Taylor, the host of a TV home improvement show called, "Tool Time," co-hosted by the level headed and likable Al Borland, played by the likable Richard Kern. Tim, the goofball in the tool belt, knew how to speak directly to the audience, while Al was obviously the one with the brains. They made a great team, both on and off the camera.  At home, Tim had a stable family of three sons and one heck of a patient wife, Jill. As played by the talented Patricia Richardson, Jill was the straight man to Allen, and Richardson had the depth to play more serious scenes with ease.
The three Taylor sons were Brad (Zachery Ty Bryan), Randy (Jonathan Taylor Thomas) and Mark (Taran Noah Smith).
At times Tim was so immature at home that it often seemed like Jill was living with four boys. Still, Tim could be tough when he had to, and he clearly adored his family. The three boys developed a believable relationship on screen, so much so that when Thomas decided to quit the show near the end of season eight, there was something definitely missing from the Taylor household and the series itself.
What family sitcom would be complete without a wacky neighbor, and the Taylors had one in Wilson, who lived next door. Wilson was a wise sage who usually showed himself with his face obscured by the white picket fence that separated the yards, a plant or some other strategic prop.
This running gag often left the audience wondering whether we'd ever see his full face. Finally, in the series finale, we got to see all of Earl Hindman, the actor who portrayed the character.
Home Improvement lives on in syndication. Turn on TV Land or your local independent channel ad you're likely to find it airing once a week or at a designated half hour each weeknight. This may be one reason it seems so surprising that it's been 20 years since the show first aired. Each season has previously been released on DVD and now Buena Vista (who produced the show) has compiled all eight seasons in this one collection. It's a massive box set, housed in a clever tool box shaped container. One of the advantages of owning a series like this on DVD is that the episodes have not been edited in any way. It's a little known fact that TV shows in syndication are trimmed to allow for more advertising time.
Each season in the 20th Anniversary Complete Collection comes with bonus features that include bloopers and deleted scenes. Additional featurettes include a live reunion hosted by Allen and Kern, a compilation of some of the show's biggest gags and audio commentary by Home Improvement executive producers, Carmen Finestra and David McFadzean. To be honest, I'm not sure if any of these features are new as all of the discs in this collection have release dates that run from 2004-2008.
The box also comes with an all-in-one Binford tool (if you know the show, you know who Binford is), with pen, measuring tape and sticky notes. The price of the box is fairly reasonable, especially when you consider that you're getting all eight seasons, plus the container.  The collection seems to have been released early enough for kids to start saving up their allowances in time for a Father's Day gift this year.
Still, Home Improvement isn't just a show for dads or guys who like tools (or guys who want to catch a glimpse of Pamela Anderson before she became Pamela Anderson). Home Improvement remains a safe family sitcom, one that everyone can sit around and watch together. These type of sitcoms are rare these days. The best seasons of Home Improvement, in my opinion, are season 2,3 and 4. This was when the show was in its prime and the distraction of movies and paychecks didn't seem to effect the overall production. As the show carried on through the remainder of its life, the episodes became a little more inconsistent.
There are enough laughs to keep everyone entertained. We're in  different era of television in which boundaries are being pushed and a show like Home Improvement now sees quaint. It's the same feeling I had in the 80's when watching I Love Lucy or The Andy Griffith Show. But in this digital age, when we aren't resigned to watching what the networks or other channels tell us to, it's nice to have a "quaint" show I can pop into the DVD player with my kids and laugh alongside them. Or, I can just watch on my own and laugh on my own.