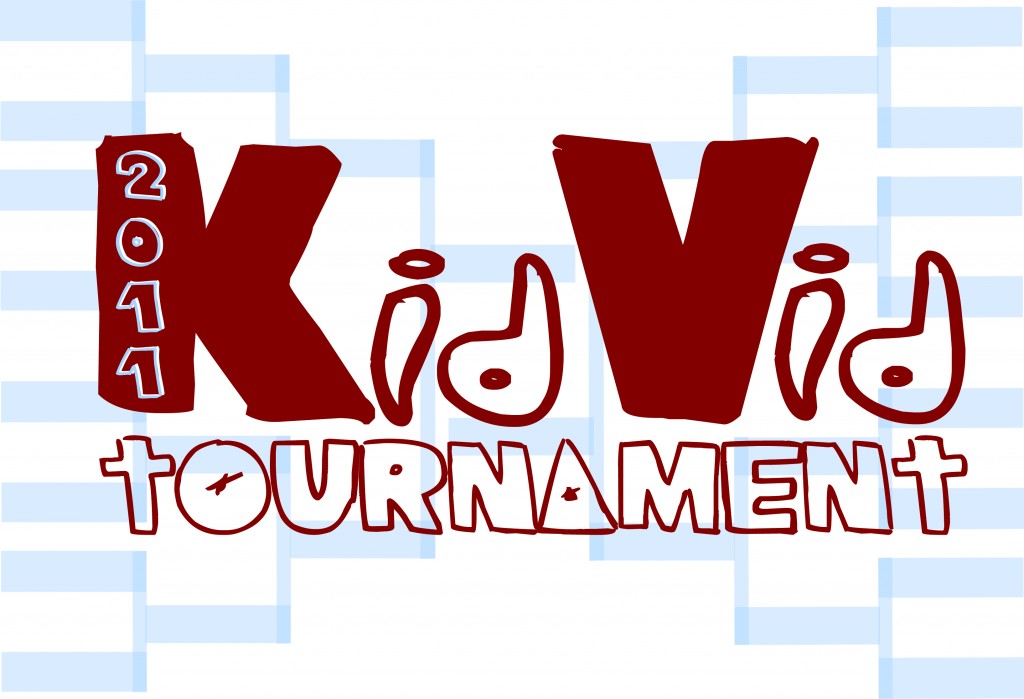 Who needs a ball and a hoop for March Madness? It's time to break out your brackets kindie style, with the 2011 KidVid Tournament!
What's a KidVid Tournament, you ask? Only a roundup of some of the year's best and brightest kindie videos, organized into divisions and marched into one-on-one battle, one round at a time.
Cheerleaders are not involved, regrettably, but I imagine some sort of trophy awaits the winner.
Or pride. Whatever.
Anyway, the fun kicks off today at Out with the Kids, where the Woody Guthrie Regional division is hitting the court. Here's a breakdown of the videos fighting for your vote today, along with a little commentary from yours truly. Watch the clips and then head over to OWTK to cast your vote!
#1 Seed: The Bazillions, "Preposition"
I didn't review this album; in fact, I'm hearing the song for the first time today. It isn't hard to understand why the band is proud of this track — it's lyrically very clever — and the video is certainly lovely. But this song doesn't do much once it gets started, does it? They're aiming for an audience old enough to understand prepositions here, so it isn't like they needed to go crazy with cute tricks in the arrangement, but this is a long 3:30. Still, it has some pretty stellar production values for a kindie video. The odds-on favorite? We'll see.
---
#4 Seed: Coal Train Railroad and Readeez, "Just the Juice Jack"
Coal Train Railroad and Readeez — two great things that go great together, to pinch a phrase from the old Reese's Peanut Butter Cups commercials. The song might make more diet-conscious parents wince — we limit our kids to a couple of cups a day — but this is still a good example of a talented band performing a catchy song and giving it an eye-catching, albeit lo-fi, video. On the other hand, I really don't need to hear more begging for juice.
---
#2 Seed: Debbie and Friends, "Cinderella"
Full disclosure: I am not a Debbie and Friends fan. On the rare occasions when I'm forced to listen to a Debbie and Friends track, I get myself through it by imagining that Debbie and Laurie Berkner unwind after long days of entertaining grubby kids by hitting the town, Thelma and Louise-style, pounding booze and getting into brawls. And it took a lot of imagination to get through "Cinderella," a five-minute kindie prog epic that gives a fairytale classic the Godfather reference it never asked for. The song is snappy, the production is slick, the animation is eye-catching, and it's obvious that when it comes to making videos, Debbie don't play. It's fine for what it is. But what it is isn't for me.
---
#3 Seed: Billy Kelly, "The Sky Floats (And So Do Boats)"
Billy Kelly is sort of the Elvis Costello of kindie — without the glasses, of course, but with hints of the same unquenchable eclectic thirst (and the same willingness to stretch the fringes of his vocal range). He also understands the value of brevity — the longest song on his upcoming album, a cover of "Rock Lobster," is 4:26, and a handful of tracks don't even break the two-minute mark. Which brings us to "The Sky Floats (And So Do Boats)," a minute and 50 seconds of snappy pop and clever rhymes. (Floats! Boats! Goats! Mozart!) The video is obviously low-budget, but that's par for the genre, and it's disguised with some nifty time-lapse shenanigans.