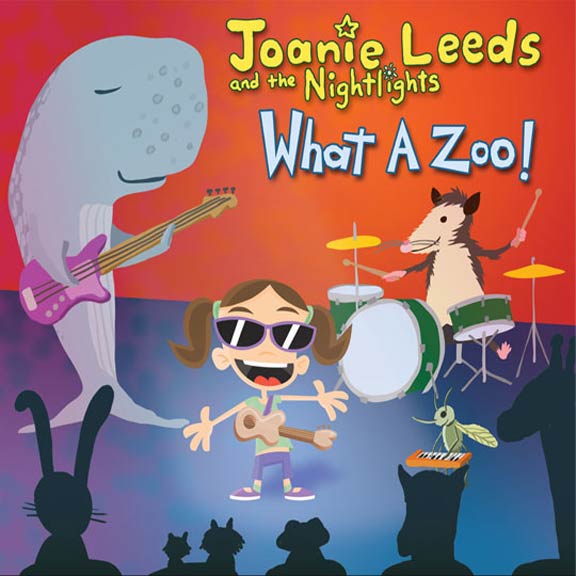 I've struggled with Joanie Leeds' music since being introduced to it with her last album, I'm a Rock Star. I think there's a fine line between aiming music at kids and pandering to them, and it's one that Leeds doesn't always tread successfully; she has a fondness for slick, sugary production and cuteness that verges on the saccharine.
Listening to her albums can sometimes feel like sitting in a room with someone who won't stop smiling — it's pleasant, but a little exhausting.
For all their problems, though, Leeds' songs succeed more often than not, simply by virtue of the fact that she's a really smart songwriter with a beautiful voice — and that's the case once again with her new album, What a Zoo!, which takes listeners on a 14-track rundown of various members of the animal kingdom. Some of her subjects are unsurprising (whales, hummingbirds, butterflies), but it's a sign of Leeds' cleverness that she works in songs about animals who don't get a lot of musical love — which is impressive, given just how many kindie songs are about animals.
Clams? Manatees? Possums? For goodness' sake, tofurkey? They're all part of Joanie Leeds' zoo. She even makes room for a pair of covers: A fresh rearrangement of "Froggy Went A-Courtin'" (featuring a rap from Secret Agent 23 Skidoo) and an album-closing round of "Wimoweh."
If Leeds' lyrical outlook benefits from her unique perspective, the album's main musical asset is her strong grasp of pop songwriting fundamentals. These are simply catchy songs, and no matter how many times I found myself wishing she'd dial back the production, I never found them anything less than enjoyable. And again, Leeds can sing — even if she gilds her vocals with a little too much sugar for my taste, they have enough strength and substance to prove she doesn't have to.
Though it's probably too cute for kids in the post-kindergarten age group, What a Zoo! offers catchy, well-performed fun for young children and their families.
Related articles