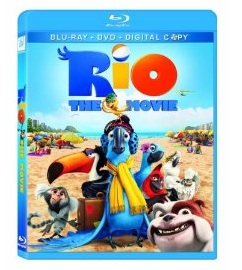 One of my favorite animated films from 2010 was Tangled, the Disney CG feature that was heartwarming, exciting and an all around great family movie. What I really enjoyed was that Disney embraced their roots and included musical numbers in Tangled. It seems that after Pixar made CG films cool and "adult," and then Dreamworks began making fun of animated musicals, a singing cartoon character was too much, even though live action stars had suddenly embraced the musical genre again. I digress. My point about Tangled holds true for Rio, the latest animated film from the great studio, Blue Sky. These are the folks behind the Ice Age movies, Horton Hears A Who, and one of my favorites, Robots. Rio is another winner for Blue Sky, and it's a winner for audiences, too. In its execution and overall tone, Rio reminds me of one of those classic Disney films from a different era, in which music and songs were just as important to the story, characters and colorful animation. I truly expect this lively movie to win many accolades at the end of the year, perhaps even win the Academy Award (because it sure as heck isn't going to be Cars 2).
Rio is about a nervous, inhibited Spix Macaw named Blu (voiced by Jesse Eisenberg of The Social Network). At a young age, Blu is captured from his native homelands of Brazil and shipped off to Minnesota. When his cage accidentally falls off the truck of his abductors, Blu is discovered by a little girl named Linda. The two grow up together. As an adult, Linda (voiced by Leslie Mann) is a bit of a homebody who owns a book store in her small town. She is approached by Tulio, an eccentric ornithologist from Brazil (played by Rodrigo Santoro) who informs Linda that Blu is the last male of his kind. He asks Linda to travel with Blu to Brazil so that the bird will mate with the lone female of the species. Linda, overcoming her fears of change, agrees and heads down to the lush, vibrant city of Rio de Janeiro.
As you would expect, things don't go as planned in Rio. First of all, Blu's "mate" is his complete opposite. She's a strong willed and independent extreme flying female named Jewel (voiced by Anne Hathaway). When the two are left alone, Blu does his best to break the ice while the only thing Jewel wants to break is out of the lab where they're being kept. Things turn ugly when animal smugglers, with the help of a sinister Cockatoo named Nigel (played to perfection by Flight of the Conchords' Jemaine Clement), steal the two rare birds and they find themselves chained together.
Blu and Jewel manage to escape from the smugglers, but now they're helplessly lost in the Brazilian rainforest. They embark on a hysterical and endearing adventure where they run into a friendly toucan (George Lopez), a hip canary and his too cool for words cardinal pal (Jamie Foxx and will.i.am of the Black Eyed Peas), and a slobbering, big hearted bull dog who just wants to dance (30 Rock's Tracy Morgan).
Rio has everything you could ask for in a family film. It's one of the most visually striking movies you will see all year.
The colors burst off the screen and the animation is so graceful and nuanced. The voice casting is perfect, with Eisenberg and Hathaway making a great romantic duo, Foxx and will.i.am stealing every scene they share, and Clement giving a genius performance. The script has heart, adventure and perfectly timed laughs. And there is the great music. In addition the John Powell's authentic score, there are superb contributions by Sergio Mendes, Taio Cruz, will.i.am and Clement.
When I say authentic, I mean it. Director Carlos Saldhana (who also co-helmed the first Ice Age and Robots, then directed the two Ice Age sequels) is a native of Brazil who came to America to pursue his artistic dreams. You expect someone to take great care when presenting a colorful place like Rio to the rest of the world and this director did just that. Rio has the feel of a labor of love and that love just pours out of every image, joke and musical note.
The special features of the disc are plentiful. It now seems that whenever an animated film is produced cameras are constantly rolling to capture the behind the scenes magic. Besides some goofy interactive features that show kids dance moves, there are many informative featurettes detailing the casting of Rio, the lengthy animation process, and the years of hard work that go in to creating 90 minutes of entertainment and art. Technically, this is one film that is worth seeing in hi-def.
The colors are so vibrant and the music is so joyful, you will find yourself returning to Rio soon after your first visit.
And guess what, for on lucky reader, we are offering a giveaway of the Rio Blu-ray/DVD/Digital Download combo pack. Email me your name and I will randomly draw one name to be the winner. The contest ends on August 13 at 6:00 PM. Email me at [email protected].  Good luck!