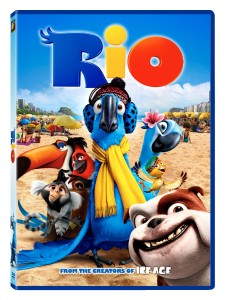 Hey there gang, Friendship Day is Saturday, July 30th!
In honor of one of the coolest days ever, Dadnabbit is having a giveaway in conjunction with the August 2nd release of Rio.
In case you missed it in the theaters this past spring, Rio the CG animated film about a nervous, inhibited Spix Macaw named Blu (voiced by Academy Award nominated actor, Jesse Eisenberg). At a young age, Blu is captured from his native homelands of Brazil and shipped off to Minnesota.
When his cage accidentally falls off the truck of his abductors, Blu is discovered by a little girl named Linda. The two grow up together. As an adult, Linda (voiced by Leslie Mann) learns that Blu is the last male of his kind, and with that, the two head south to Rio de Janeiro to meet Blu's new mate. However, it's nowhere near close to love at first sight between the socially awkward, flight challenged Blu and the strong and independent extreme flying female Jewel (Academy Award nominated actress, Anne Hathaway). Shortly after Blu's arrival, greedy animal smugglers capture the two rare birds and they soon find themselves chained together and helplessly lost in the Brazilian rainforest. They embark on a hysterical and endearing adventure where they learn about friendship, love, courage and spreading ones wings to fly. Continue reading →