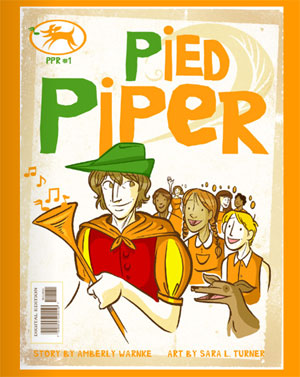 We write a lot here about stuff you can buy for your kids, but this is a consumer and entertainment guide for dads, so we'd be remiss if we didn't fill you in on an exciting — and totally free! — development in the world of children's entertainment.
Say hello to Pied Piper Radio!
Developed by Amberly Warnke, the proprietor of Ages 3 and Up!, Pied Piper Radio is a weekly radio show for kids, syndicated through the Public Radio Exchange. What does it all mean to you? That someone has started a kids' music program for the public radio audience. In other words: No commercials, no singing toys, and none of the corporate tie-ins that tend to bedevil even some of the best in the genre (like those "Mickey Mouse Clubhouse" jingles that They Might Be Giants did). Music that matters to kids, not music that's aimed at them.
And even though you may not have heard of her, or listened to Ages 3 and Up!, Warnke is well qualified for this kind of undertaking, with an ear for fun, honest children's entertainment. Names like Key Wilde & Mr. Clarke, Dean Jones, Brian Vogan, Ratboy Jr., and Michael Rachap of Readeez popped up on her 3 and Up! playlists, and as you know if you've been reading this site for any length of time, we stand firmly in support of those artists getting as much airplay as possible.
But if Pied Piper Radio isn't available in your market yet — or if you don't even know how to find the public station on your dial — don't fret. You can sample the show's goodness right here. And if you are familiar with your local public station, even better — point them at that link and let them know you'd love to have more high-quality family entertainment on your airwaves.