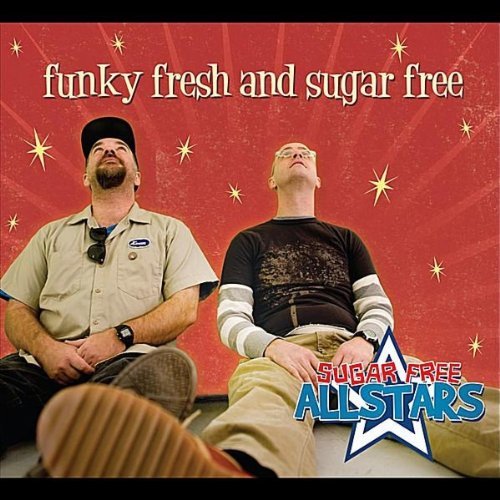 My daughter wasn't much older than three when she strolled down the hallway after a bath one night, turned around, dropped her towel, and instructed me to "look at the rump" while she danced around. Moral of the story: Kids love to dance.
Most kids' musicians know this, and most albums of kids' music include at least a song or two about getting up and moving around — but most of them are lacking that crucial groove thang that hits you in your funky bone. The best music made for children is many things — fun, educational, smart, tender, catchy — but generally speaking, it does not bring the funk.
Unless it's made by the Sugar Free Allstars, that is.
The Allstars (a.k.a. vocalist/Hammond player/saxophonist Chris "Boom!" Wiser and drummer Rob "Dr. Rock" Martin) continue their winning streak with their second album for kids, Funky Fresh and Sugar Free. Not only does the new set expand the band's spartan aesthetic (one track, "SFA Disco Dance Party," even includes disco strings), the songs make it clear Wiser and Martin have picked up a few lessons at their gigs, because the album is stuffed with tracks that leave room for audience participation. Right from the start of the first track, "Rock Awesome," you can tell the Allstars want to get kids on their feet. "How we gonna rock?" shouts Wiser, and a crowd of kids' voices comes back with the only appropriate response: "We're gonna rock awesome!"
Also begging for singalong status are "Hey Now, It's Your Birthday" — which even makes room for your own birthday boy or girl's name at one point — and "Tiger in My Backyard," which concludes with a nod to James Brown that will get a grin from funky fresh parents. Other highlights include the strutting "In My Pocket," the very funny (and inspirational) "6th Grade Band," and the Allstars' cover of "Ob-la-di, Ob-la-da," although to only name those three is a little misleading, because there aren't really any lowlights. It's fun stuff, all of it — music that not only fills a rump-shaking void in a mostly quite groove-deficient genre, but that families can enjoy with their own SFA dance parties. If you haven't experienced the Sugar Free Allstars yet, it's time to get on the good foot.