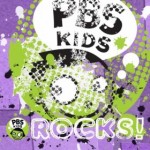 My love of Ozomatli is well documented. As I sit and wait patiently for the formal release of an Ozokids album, they are kind enough to tease us with just enough to tide me over. First it was the Happy Feet 2 Video game Soundtrack and now it's 4 songs on the just released PBS Kids Rocks! album. For the record, they're the best four songs on the album, not that I'm biased or anything.
Ozomatli is not the only band on the album. Children's music staples They Might Be Giants, The Wheepies, Rebecca Frezza and others are all featured on the album.  In addition, the album features songs produced in-house by 'PBS Kids'. Those songs, while fine, don't stand out like the tracks from established artists on the album.
Lots of different topics are covered on this album: Camouflage, Gravity, Vowels, Pronouns, Weather, Seeds and lots of others.
Every track is barely :60 seconds long.  So expect to see a lot of these in between shows on PBS and Sprout.
Check out the Ozomatli song Opposable Thumbs.
and the video for Pronouns
Track list for the album
1. Opposable Thumbs – Ozomatli
2. Five Senses – Ozomatli
3. Camouflage – Pbskids
4. Navigation – The Weepies
5. Matter – Steve Songs
6. Jump, Jump, Jump – Rebecca Freeza Big Truck
7. Gravity Always Brings Me Down – The Weepies
8. Nocturnal, Diurnal – Pbskids
9. Weather – Pbskids
10. Seeds – Pbskids
11. The Three R's – Pbskids
12. Practice – Ozomatli
13. Pronouns – Ozomatli
14. Vowels  – Steve Songs
15. Share a Story  – They Might Be Giants
The album is available on Itunes and Amazon.