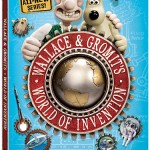 You remember Wallace & Gromit, right? Me? Honestly, I had forgotten about them. It's been 7 years since the full length feature, The Curse of the Were-Rabbit. But as a casual fan, I was interested to see what the latest release from Wallace & Gromit brought to the table. Wallace & Gromit: World of Invention is the first new release since the Academy Award® nominated, A Matter of Loaf & Death from 2009.
The new DVD contains the entire six-part BBC ONE television series from 2010. The collection features Wallace & Gromit as hosts introducing segments on a number of educational topics. Each of the six episodes include six segments within them. This DVD is much less about Wallace & Gromit and more about the educational aspect. It's as if Bert & Ernie hosted an episode of NOVA or Nature on PBS.
Topics on the DVD run a wide spectrum; Spy pigeons, marine biology, electric motors, housekeeping robots, termites, jet-packs and much more.
At over two and a half hours long, this DVD packs a lot of punch, for a very small price. It's well worth it, no matter your child's age. The collection is more geared towards children ages 6-10 years old. At the same time, my 3 year old was fascinated by the segments and was glued to the television the entire time. Trust me that never happens, especially for over two hours, on a single program.
Here's a quick snippet on what to expect from this DVD:
All the details:
Blu-ray Format: 1080P High Definition 16×9 Widescreen (1.78:1)
DVD Format:  16×9 Widescreen (1.78:1)
Feature Running Time: 175 minutes
Blu-ray Audio Status: 5.1 DTS-HD Master Audio™
DVD Audio Status: 5.1 Dolby Digital
Website: www.wallaceandgromit.com
Facebook: www.facebook.com/wallaceandgromit