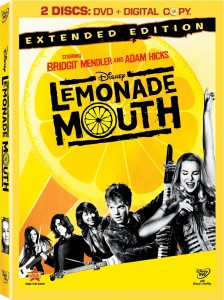 I've seen my share of made for TV Disney films over the past eight years to tell the good from the bad, the craptastic from the sublime. Lemonade Mouth, which aired this past spring and has just been released on this two disc DVD combo pack, ranks as one of the best that the mouse house has produced. A great script; fine acting by the film's young cast; and most of all, songs you won't mind hearing over and over again when your kids buy the soundtrack, because they will want to buy the soundtrack. But that's okay. The songs from Lemonade Mouth had the exact mix of inspiration and pop drive to make to make it perfect for accompanying this summer's family road trips and pool parties.
Let's talk about the movie, though. Adapted from the YA novel written by Mark Peter Hughes, Lemonade Mouth stars Brigit Mendler (Disney's Good Luck Charlie) and Adam Hicks (Disney XD's Zeke and Luther) as Olivia and Wen, two high school freshmen who become acquainted while serving detention. Together they meet Mo (Naomi Scott, featured in this fall's Terra Nova), Stella (Hayley Kiyoko of Cartoon Network's Scooby Doo prequels) and Charlie (Blake Michael, formerly of Cartoon Network's Fried Dynamite). Stuck together doing cleaning chores, the five kids quickly learn that they all have a passion for music.
Before you know it they form their own band, settling on the name "Lemonade Mouth" after Stella sprays the resident school jerk with a mouth full of canned, organic lemonade, her favorite drink. The five kids play their own instruments (in the movie, anyway), write their own songs and come up with an anthem, "Determinate," that all of their classmates start singing around the school halls. This last one is much to the chagrin of the school principal, Mr. Brenigan, played by Christopher McDonald (who will never outlive being "Shooter McGavin" in my book). Moreover, this anthem also pisses off the resident "it" band, Mudslide Crush, whose music sounds is a mix of Red Hot Chili Peppers funkiness and Scott Weiland cockiness.
Each of our heroes has their own issues at home. Olivia lives with her grandmother because her mom has died and her dad is MIA. Wen is distraught that his father is about to remarry a woman he doesn't like. Mo's parents do not approve of her rock and roll diversion and want her to focus on her studies. Stella is the school's resident misfit. And Charlie is kind of mousy, turning his fears and aggressions into some fine drumming skills.
As the movie progresses, the main characters overcome their fears and shortcomings, eventually realizing that it's not the music that makes the band special, it's the friendships they've formed between the five of them. Additionally, they all learn that they are talented, have worth and that kid's voices can create change.  As corny as this sounds, everything about Lemonade Mouth is executed superbly and there is an excellent message of empowerment at the core of the story. Lemonade Mouth seems clearly geared as a coming out movie for Mendler to be the next Disney "it" girl, yet all of the young actors do fine work.Like all Disney films, this is a safe one for the entire family and one worth watching multiple times.
since the movie originally aired and I can't say that I've wanted to rip my hair out. The songwriters hired to compose the songs for this one did a great job. And what can be better than walking by your kids' rooms and watching them lip sync to music?
The DVD has the limited bonus features. There is the option to sing along with the songs in the movie (the lyrics run along the bottom of your screen).There is also an extra scene and song that did not appear in the film. While the song is good (it also appears on the soundtrack) the scene is a waste of time and seems to have been thrown together just for the DVD. The tone and acting do not fit the film at all, so if it was actually a part of the original movie, it's obvious why it was cut.