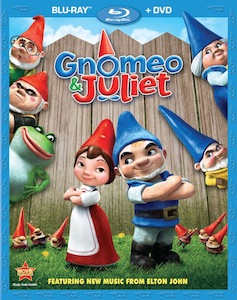 It's a tale told a thousand times, best done in the movies by Franco Zeffirelli, Robert Wise and Jerome Robbins, and Baz Luhrmann. So do we really need another adaptation of Romeo and Juliet, this one an animated film told with garden gnomes and other assorted lawn decorations? My first response, especially with this premise, was absolutely not. Even with the music of Elton John in the background, Gnomeo & Juliet sounds like a horrible idea. But guess what, it's actually a cute little movie with a great deal of heart, some wonderful performances by an excellent cast, and of course there is the music.
In this interpretation of the Shakespeare's classic work, Romeo, er, Gnomeo, is part of the "Blues," who live in the yard of Mrs. Montague. Across the alley from that yard lives Mr. Capulet, whose lawn is populated by "Reds," i.e. red garden gnomes. These two neighbors constantly bicker and thus, because of their allegiances to their owners, the Blues and the Reds are bitter enemies. If you haven't figured it out yet, Juliet is a red.
Just like their Disney cousins in Toy Story, the gnomes and their other lawn friends, like trolls and frogs, all come to life when humans aren't looking. Likewise, if a human is around, they must freeze in place. This leads to a couple of perfectly timed jokes, but the gag isn't overused. While the humans are away, the gnomes are involved in all sorts of backyard shenanigans, the most popular of which are lawn mower races between the warring gnome factions. It is here that we see that Gnomeo is noble, heroic and loyal. We also meet his bitter rival, Tybalt, who cheats on his lawn chariot and isn't above risking Gnomeo's life in order to win.
Like the story of old, Gnome and Juliet accidentally meet  and have an instant attraction. That attraction leads to secret meetings and eventually a secret love. The two kids dream of running away from the chaos of their families and starting a new life in a run down, deserted yard occupied by a lonely, one legged flamingo (one of the best characters in the film). Of course, their dreams are shattered once Tybalt is shattered (he is ceramic, after all) and Gnomeo goes on the run.
The rest of the plot follows Shakespeare's tragedy, although with some wacky twists, including the world's most outrageous lawn mower. You'll be happy to know that the ending of this film ends on a more upbeat note.
The film was directed by Kelly Asbury, who also co-directed Shrek 2 and Spirit: Stallion on Cimmaron and was written by a platoon of writers. The script is witty and uses the classic tale as a starting point but finds ways to be original and funny. Asbury's direction is imaginative and he keeps the film feeling fresh and exciting. As was well advertised when the film came out, Gnomeo & Juliet uses new and old songs by Elton John and Bernie Taupin. Additionally, the original score by critically acclaimed composer James Newton Howard (an old friend of John's) incorporates several of John's most famous songs into his music.
Another reason Gnomeo & Juliet succeeds is the stellar cast. James McAvoy (the current "Professor X" in X-Men:First Class) and Emily Blunt (The Devil Wears Prada) star as he romantic leads. Michael Caine plays Juliet's father and the incomparable Maggie Smith portrays Gnomeo's widowed mother. Matt Lucas (Little Britain), Jason Statham, Ozzy Osborne, Stephen Merchant (the U.K. Office) and Patrick Stewart (as a statue of Shakespeare) all contribute to the cast, as well.
The DVD includes a featurette on how the film came together through Elton John's new production company, a look at some of the voice actors, and a music video to "Crocodile Rock," as performed by the cast of the film. The Blu-ray contains these same bonus features, as well as alternate endings, deleted scenes, and a behind the scenes feature with heavy metal god, Ozzy Osborne (who's actually very good in the movie).
Gnomeo & Juliet is a sleeper film that deserves a larger audience. Parents and kids will like it and I'm sure everyone will find themselves humming one of the familiar songs soon after the credits have rolled.