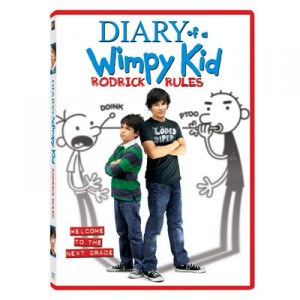 Diary of a Wimpy Kid: Rodrick Rules is a vast improvement over its predecessor. Whereas the first Diary of a Wimpy Kid film featured a main character who was primarily a jerk, the second movie has mellowed out hero Greg Heffley and made him easier to root for during his new misadventures.
Like the previous film, Rodrick Rukles is based on the bestselling books by Jeff Kinney. The central story of the movie deals with seventh grader, Greg (Zachary Gordon), and his relationship with older brother, slacker high schooler, Rodrick (Devon Bostick). The film opens with the beginning of a new school year. Greg is less concerned about being popular and more interested in meeting the cute new girl, (Peyton R. List). As if he has a chance. Luckily, Greg has his loyal companion, Rowley (Robert Capron) to provide a constant stream of optimism.
Meanwhile, Greg and Rodrick are at each other's throats, like normal siblings will be. One Sunday morning, Rodrick sneaks a candy bar under Greg's seat on the way to church. Poor Greg looks like he's dropped a load in his khaki's and when he has to walk before the entire congregation, the kid is mortified.
While Rodrick cracks up behind him, Greg tackles his older brother in front of the whole church. Now, the boys' exasperated parents (Rachael Harris and Steve Zahn) are mortified.
As punishment, Greg and Rodrick are grounded at home while the rest of the family goes to a water park. This is perfect for Rodrick as he throws a massive party.
Against Rodrick's plans, Greg and Rowley manage to crash the party and surprisingly, the two young ones manage to fit in with the older crowd. When their folks call to announce that they're coming home a day earlier, Greg and Rodrick scramble to clean the house and somehow replace the broken doorknob on the downstairs bathroom door. I won't spoil how they manage this. In the process, the two of them start to bond.
I'm not saying that lying to your parents to cover your older brother's ass is the right way to connect with him, but that's what happens when Greg feigns innocent after their mom becomes suspicious about what happened while they were away. Rodrick suddenly sees his little bro in a different light and Greg discovers that his older brother isn't such a menace to society.
It's within this plot that the film really gels. Gordon and Bostick really seem to have a brotherly bond (this is their second film together, after all) and it adds to the believability of the movie. Moreover, the two actors show more range in this film than in the first, especially when it comes to emoting the disappointment and heartbreak that comes with growing up. Rodrick Rules also has a funnier script than the first movie, making it mopre fun that the first one. It's rare that a sequel is better than the original (especially in family films), but this is one that won't make you want to throw the remote at the television.
Diary of a Wimpy Kid: Rodrick Rules is available in three different releases: The single disc DVD contains the following bonus features: Two (2) "My Summer Vacation" Shorts, Theatrical Trailer, and Audio Commentary. The two disc DVD comes with these bonus features: Six (6) "My Summer Vacation" Shorts, Six (6) Deleted Scenes, Gag Reel, and Audio Commentary. Finally, the DVD/Blu-Ray/Digital Copy version comes with Seven (7) "My Summer Vacation" Shorts, Ten (10) Deleted Scenes, Gag Reel, Alternate Ending, and Audio Commentary. The "Summer Vacation" shorts are very cute and further the adventures of Greg and Rowley.