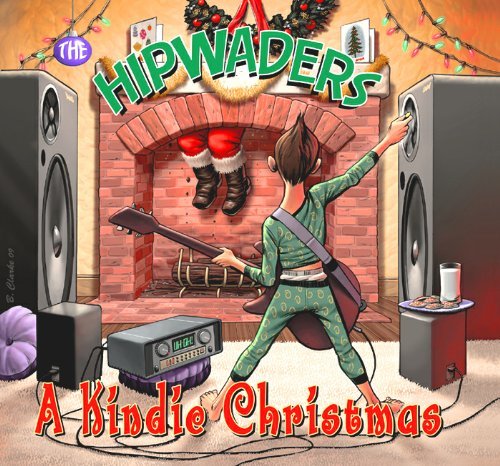 If you're one of those people who breaks out in a cold sweat any time the words "Christmas music" are uttered before Thanksgiving, you're probably not in any hurry to read about this holiday season's new musical offerings — particularly of the kid-friendly variety — but you needn't fear A Kindie Christmas, the 10-song yuletide collection from the Hipwaders: Santa puts in plenty of appearances, sure, but the band keeps the sleigh bells and fa-la-las to a minimum, and the whole thing plays essentially like just another new album from the band that gave you Educated Kid and Goodie Bag.
That might sound a little dismissive, but it isn't: The Hipwaders are "kindie" in the best sense of the word, serving up a brand of family-oriented pop that has its jangly roots in the classic sound of artists like the dB's and '80s R.E.M. A Kindie Christmas is ten breezy tracks (just under 24 minutes in total) of hip holiday fun, from the Tex-Mex rumble of "Santa's Train" to the sweetly melancholy tones of "Tinsel & Lights." It thankfully lacks the obnoxious, over-caffeinated vibe that a lot of kids' Christmas tunes have; instead of sounding like a shopping soundtrack, it's got the warm, mostly mellow sound of a night at home around the fire, but with enough of a spark (particularly on the nifty "It's Christmas") to keep the kids dancing around the tree.
A Kindie Christmas will be released November 3; in the meantime, sample this video, visit the band at its site, and enjoy the blog they've set up to promote the album.