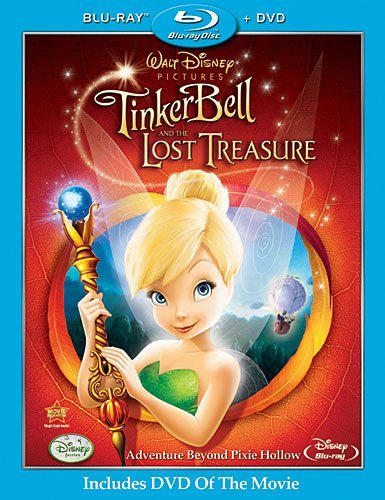 It may have taken Disney more than 50 years to give Peter Pan's spunky sidekick her own feature, but now that they've kicked off the Tinker Bell film franchise, they're through fooling around: Tinker Bell and the Lost Treasure arrives only a year after 2008's Tinker Bell, and comes complete with the kind of top-shelf voice cast (including a cameo from Anjelica Huston) and big-budget extras (including a score performed by an 82-piece symphony) that used to be synonymous with Disney. Direct-to-video animated films get a bum rap, and that's due in large part to the crap that Disney released in the '90s; between Tinker Bell and its sequel, however, the studio seems to be making a real effort to turn all that around.
The official synopsis of the film is as follows: The tale of Disney's favorite fairy, Tinker Bell, continues in an all-new magical adventure beyond Pixie Hollow! Discover how the Pixies make their magic dust! Let your imagination soar as Autumn comes to Pixie Hollow. Take off in a hot air balloon with Tinker Bell and her new friend Blaze, a lightning bug who lights her way, on an enchanting secret journey to find a new moonstone, the source of the Pixies mystical dust.
But hold on tight! There'll be amazing encounters, some close calls, and a daring rescue by her old friend Terence! In her biggest adventure yet, Tinker Bell not only learns a lesson in responsibility, she discovers the true meaning of friendship.
From the creators of Tinker Bell, 'Tinker Bell and the Lost Treasure' is a captivating journey of self-discovery everyone will want to take.
You could hardly ask for a character more designed to appeal to a young female demographic than Tinker Bell, but Disney has fashioned something of a unisex adventure out of Tinker Bell and the Lost Treasure, pumping up the action-adventure quotient by sending Tink (Mae Whitman) on a dangerous quest and giving her a male foil in Terence (Jesse McCartney), the quasi-love interest who experiences the sting of her hot-tempered wrath when his well-intentioned bumbling jeopardizes her big chance at proving her maturity to the queen (Huston). It isn't necessarily the kind of movie you'd think of when you hear the words "fairy adventure," in other words — but even if it sounds like something the boys in marketing cooked up, Lost Treasure is actually a lot of fun, thanks to a breezy screenplay by Evan Spiliotopoulos and a charming supporting cast that includes the voices of Kristin Chenoweth, Lucy Liu, and Raven-Symone. At 80 minutes, it's too quick to wear out its welcome, and the CG animation — particularly when viewed in 1080p — is loaded with eye-popping moments.
It'll still be easy for the cynics in the audience to dismiss Tinker Bell and the Lost Treasure as a Disney cash grab — and hey, at bottom, that's probably what it really is — but as these things go, it's head and wings above the pack.
The Lost Treasure Blu-ray, like others in Disney's hi-def line, comes with a DVD that includes the film — and, in this case, all the bonus content, such as a series of "bloopers," a guide to Tinker Bell's home of Pixie Hollow, and a music video starring Demi Lovato, who clearly hasn't realized that her recent Number One album means she's too big to be wasting her time singing home-market soundtrack piffle like "Gift of a Friend." All of it's entertaining enough, but the real draw, as it should be, is the main feature, which proves a worthy successor to the first installment, does a fine job of setting up the next of Disney's three announced sequels, and provides just under an hour and a half of dazzling family entertainment. The studio really has it down to a science at this point — but if it were as easy as they make it look, everyone would be making 'em this good.