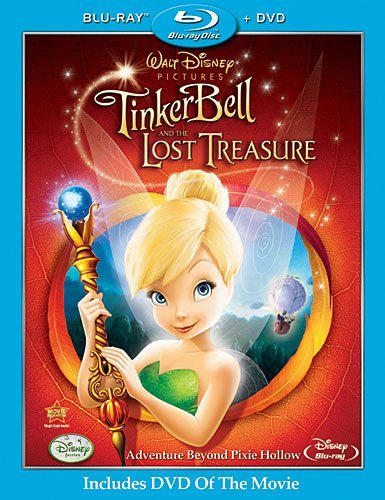 It may have taken Disney more than 50 years to give Peter Pan's spunky sidekick her own feature, but now that they've kicked off the Tinker Bell film franchise, they're through fooling around: Tinker Bell and the Lost Treasure arrives only a year after 2008's Tinker Bell, and comes complete with the kind of top-shelf voice cast (including a cameo from Anjelica Huston) and big-budget extras (including a score performed by an 82-piece symphony) that used to be synonymous with Disney. Direct-to-video animated films get a bum rap, and that's due in large part to the crap that Disney released in the '90s; between Tinker Bell and its sequel, however, the studio seems to be making a real effort to turn all that around.
The official synopsis of the film is as follows: The tale of Disney's favorite fairy, Tinker Bell, continues in an all-new magical adventure beyond Pixie Hollow! Discover how the Pixies make their magic dust! Let your imagination soar as Autumn comes to Pixie Hollow. Take off in a hot air balloon with Tinker Bell and her new friend Blaze, a lightning bug who lights her way, on an enchanting secret journey to find a new moonstone, the source of the Pixies mystical dust.
But hold on tight! There'll be amazing encounters, some close calls, and a daring rescue by her old friend Terence! In her biggest adventure yet, Tinker Bell not only learns a lesson in responsibility, she discovers the true meaning of friendship.
From the creators of Tinker Bell, 'Tinker Bell and the Lost Treasure' is a captivating journey of self-discovery everyone will want to take. Continue reading →